US and Brazil agree to open each others' beef market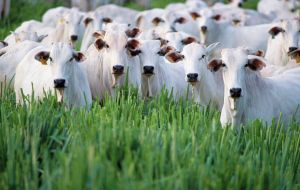 The United States and Brazil have agreed to allow access to each other's beef markets after more than a decade of negotiations. Brazil's Ministry of Agriculture, Livestock and Food Supply has agreed to imports of U.S. beef for the first time in 13 years, USDA announced today. And the U.S. will accept Brazilian beef for the first time since 1999.
"Brazil's action reflects the United States' negligible risk classification for bovine spongiform encephalopathy (BSE) by the World Organization for Animal Health (OIE) and aligns Brazil's regulations to the OIE's scientific international animal health guidelines," USDA said in a news release.
And USDA also acknowledged some news that broke a few days ago, that for the first time since 1999 the U.S. will allow imports of fresh and frozen Brazilian beef. The Food Safety and Inspection Service (FSIS) "recently determined that Brazil's food safety system governing meat products remains equivalent to that of the United States and that fresh (chilled or frozen) beef can be safely imported from Brazil," USDA said.
That decision drew the ire of the US National Cattlemen's Beef Association.
"The Government Accountability Office is still reviewing the methodology used during the decision-making process," NCBA President Tracy Brunner said. "Furthermore, USDA has failed to provide the detailed and documented science-based review of the risk evaluation protocols for determining an animal health status for countries - information requested by the U.S. beef industry and Congress last year in order to alleviate serious animal health concerns.
With so much at stake, there is no reason USDA shouldn't be forthcoming with information and willing to wait for the completion of the GAO audit."
But Brunner said the most important matter was addressing readiness for foot-and-mouth disease.
"We need the U.S. Government to take the proper precaution and ensure a robust Foot-and-Mouth Disease vaccine bank," he said.
"The U.S. cattle herd has not been exposed to FMD since 1929, and the current lack of FMD preparedness could devastate our industry if our herd is exposed to the highly communicable disease. We cannot afford to jeopardize our nation's livestock herds, which are the foundation of our global food supply, before all the possible risks to animal health and food safety have been properly addressed and precautions have been established."
NCBA didn't mention the opening of Brazilian markets to U.S. beef in its statement, but when asked, spokesperson Shawna Newsome said NCBA is "glad to see Brazil recognize the United States' negligible risk status." At the same time, that development does not lessen NCBA's concerns about the FSIS announcement.
Agriculture Secretary Tom Vilsack said that "since last year alone, USDA has eliminated BSE-related restrictions in 16 countries, regaining market access for U.S. beef and pumping hundreds of millions of dollars into the American economy."
"The Brazilian market offers excellent long-term potential for U.S. beef exporters," he said, taking note of the 200-million-plus consumers in Brazil. This year, U.S. beef also has gotten access to the Saudi Arabian, Peruvian and South African markets.
Reports in the Australian press said that country's meat industry does not expect Brazilian beef to have much of an impact on the market in the short term.