Argentina squid landings very poor; jiggers could anticipate closure of the season
Friday, August 5th 2016 - 13:24 UTC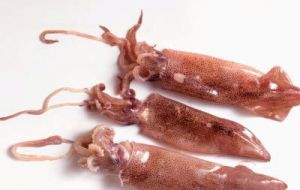 Argentina reports poor results from the current Illex squid season and does not discard an anticipated closure if catches fail to recover. The president of the Argentine Chamber of Jigger Fishing Shipowners (CAPA), Juan Redini confirmed to the portal Pescare that only five to six vessels remain operational between parallels 40° and 42°, but with erratic course and catches.
"There were days when only 4 to 6 tons were caught; others when capture reached 10 tons, but that is all" told the media.
Most of squid caught have sizes between S and M, and the problem, according to Redini, it is that "this volume is not enough" because although prices have increased, there are also higher production expenses, and the sector has had two bad years.
At this time, most of the squid jigger fleet is moored and many owners consider the harvesting period is closed.
According to statistics from the Argentine Under Secretariat of Fisheries and Aquaculture, in the first 18 days of July the Illex catch was only 233.6 tons, and so far this season, cumulative landings have totaled 52,371 tons, 60% less than in the same period of 2015.
Improving prices, which averaged US$ 1,900 per ton, 65% over last year, have brought some relief to the owners who managed some relatively modest catches, but vessels with less capacity and lower luminous power, the balance has been decisively negative, Redini underlines. (FIS)