Kerry supports Macri free-market policies but calls for patience: things don't change overnight
Friday, August 5th 2016 - 20:44 UTC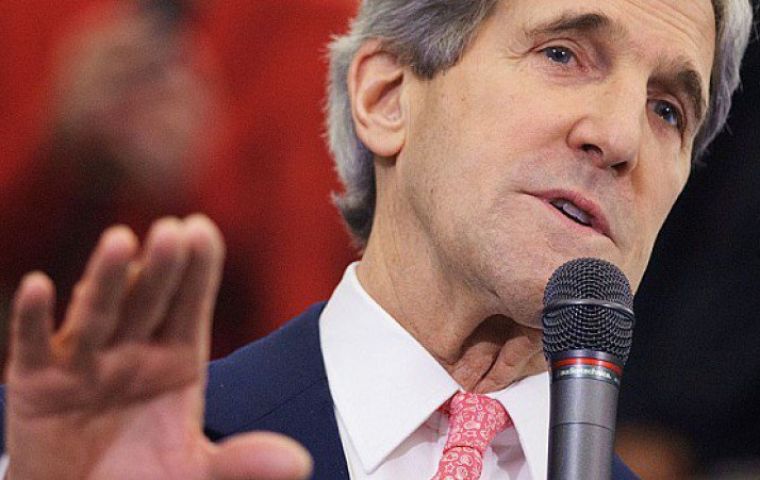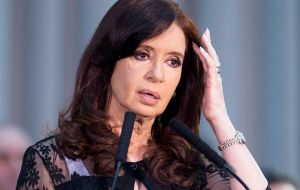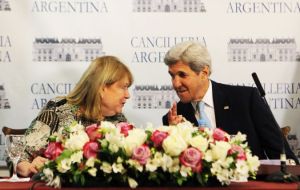 United States Secretary of State John Kerry urged Argentina to be patient with the slow pace of economic progress and investments under its new government and praised president Mauricio Macri's free-market stance.
Kerry addressed growing local discontent over an economy beset by stagflation. "It's not all going to change overnight," Kerry told a group of business leaders at a breakfast meeting in Buenos Aires.
"Getting rid of bad habits takes a little bit of time and investment takes a little bit of time to take hold and begin to create momentum," he added, an implicit criticism of the Cristina Fernández administration. "But I am 100 percent confident, as is President Obama, that Argentina is on the right course. People need to be patient."
The appeal for patience was partnered with robust support from Kerry for Macri and his counterpart Susana Malcorra. Emerging from a brief meeting with Foreign Minister Malcorra, he underscored the "United States friendship and our respect for Argentina and our commitment to working together through this dialogue and in other ways to deal with problems that we face".
"And that is really the heart of the message that I bring to Buenos Aires. I have no doubt that President Macri and the foreign minister are as firmly committed to a close, sustained partnership with the United States as the United States is with Argentina. And I think that could not be more important at this time."
Kerry, as did Obama before him last March, gave his stamp of approval to Macri's economic package. "Argentina is an extraordinary country with talented people educated, capable enormous resources. And as it changes with the reforms that have been put in place, the economic prospects are going to change. There will be more investment. There will be more growth. It doesn't happen overnight, but it will happen because of the determination of the direction this government has chosen to move in."
In addition to meeting with Macri, Kerry and Malcorra formally set into motion a regular High-Level Dialogue to discuss bilateral issues such as security cooperation, trade and investment.
As part of that cooperation, Kerry announced that further to notification to the US Congress, the State Department has set aside US$ 1.5 million to support law enforcement and criminal justice sector reform initiatives aimed at tackling improving border and airport security, prevent money-laundering, counterterrorism, and reduce the demand itself for illegal drugs.