Mercosur founding members agree to disagree, but will hold another round of talks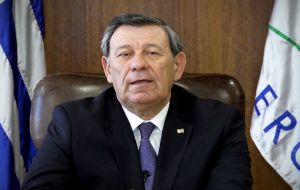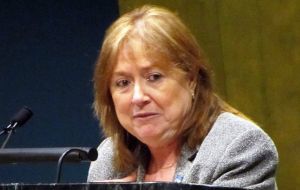 Mercosur founding members coordinators who met in Montevideo on Thursday to address the controversy over the presidency of the group and the self proclamation to the post by Venezuela, did finally reach some conclusions, but the most significant seems to be that they continue to disagree on the steps to follow and are prepared for another round of talks.
Accordingly each country member ratified their position, Brazil and Paraguay decisively against Venezuela holding the Mercosur chair; Uruguay who was criticized by its partners for having given up the presidency at the end of its legal six-month mandate, which led Venezuela to self proclamation and the current controversy, insisted it did the right thing, while Argentina in a more contemplative attitude proposed a "collective" leadership at ambassador level during these six months but emphasizing that the main issue was ensuring Mercosur international image so as not to hinder the trade and cooperation negotiations with the European Union.
Uruguay which hosted the meeting said it supported the Argentine initiative as long as Venezuela, as fifth member, was consulted, which obviously was politically correct but a bit naive given President Nicolas Maduro radical position, plus all the offensive language towards his peers from Paraguay ("corrupt drug lord"), Argentina ("emaciated and failed") and Brazil ("dictator"), and a overall description of the three as "torturers".

"It was an extremely cordial meeting but we did not reach a consensus on the
presidency of Mercosur, which remains vacant and is a priority, urgent priority, despite the difficulties" said the Paraguayan deputy foreign minister Rigoberto Gauto, the highest level official at the meeting.
Nevertheless Mercosur will hold another meeting and continue to function with the purpose of advancing with EU negotiations, added Gauto. "We are analyzing different mechanisms which are currently under consideration of the member countries".
Uruguay's foreign minister and host of the meeting, Rodolfo Nin Novoa said that his greatest contribution at this moment was "silence", while Argentina's Susana Malcorra from Buenos Aires stated that strengthening Mercosur was absolute priority, and pointed out that the current situation impacts on the foreign image of the group which is currently involved in crucial negotiations with the EU and in "other fronts".
From Brazil, foreign minister Jose Serra reiterated that Venezuela was in no condition to hold the Mercosur presidency because it yet has to comply with (2012) promised incorporation requirements and besides, "can you imagine the seat of the block working out from Caracas". Finally Mercosur "does not need a presidency to continue advancing"
And from Venezuela, the opposition was ironic about Maduro's intent of holding the Mercosur presidency.
"Only last year we owed Uruguay over US$ 70 million on imports we never paid, how can Maduro be so cheeky to hold the presidency of Mercosur when he turned Venezuela into Latin America's head of delinquent customers", said lawmaker Jesús Yáñez.
However this Friday there are expectations of some advances during the opening of the Rio Olympic Games, when interim president Michel Temer receives his peers Mauricio Macri from Argentina and Horacio Cartes from Paraguay.