Falklands' permission for new demining program this summer
Sunday, August 7th 2016 - 17:56 UTC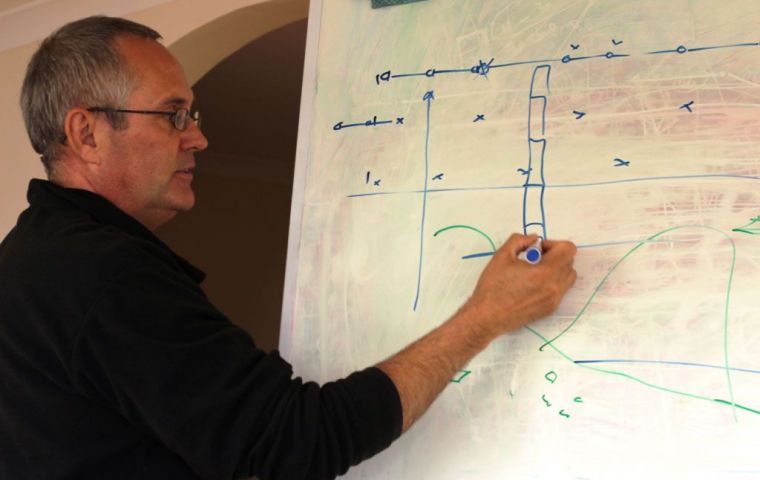 The Falkland Islands Planning and Building Committee has granted permission to the Foreign and Commonwealth Office to undertake clearance of land mines (a technical assessment) at various sites around the Falklands.

The minefields subject to the first application are in an area known as Cluster 2, which are fenced suspect areas with no Argentine records, each of which will require technical survey to define what, if anything, is within the fenced areas.
Once that is known, clearance can be arranged. The minefields are situated at Goose Green, Port Howard, Fox Bay and the Port Harriet area. The committee also gave permission for the full clearance of various minefields in clusters 1,2 and 3.
These comprise: 1. Areas south of Hearnden Water and Murrell River, north of Mount Tumbledown and Two Sisters and as far west as the Murrell Bridge 2: (see above). 3: Mined areas close to Stanley and behind the eastern end of the Stanley Common fence (SCF) from the Eliza Cove road to Rookery Bay, and also Port Fitzroy.
The next demining phase in the Falklands is expected to begin this austral summer, following the end of activities which has started in January 2015.
The Falklands has been an extensive demining operation in progress since 2009 to remove the estimated 20,000 anti-personnel and 5,000 anti-vehicle mines leftover by the Argentines since the 1982 conflict. Funded through the UK Foreign Office, and in response to the obligation to remove mines in their territories under the terms of the Ottawa Treaty, the clearance of mines in the Falklands has seen the number of minefields reduced to 82. There were 146 immediately after the end of war in 1982.
Since 2009, both BACTEC International and Fenix Insight (known previously as CKA) have been working in the Falklands on behalf of the UK Foreign Office and have successful cleared 35 minefields.
Guy Marot, of the Falkland Islands Demining Program Office (FIDPO), referred to the successful advances made during the current phase of demining, which has focused on areas surrounding the capital, Stanley, and has progressed faster than previous phases, due to a combination of increased experience from previous phases and a better understanding of Argentine records, most of which are extremely accurate.