Argentines continue to support Macri despite disappointment with the economy
Monday, August 8th 2016 - 11:00 UTC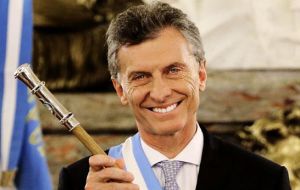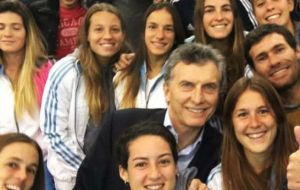 Most Argentines are pessimistic about the country's economic situation, but they are continuing to stand by Let's Change (Cambiemos) leader President Mauricio Macri, a new poll by the San Andrés University (UdeSA) has found.
The survey paints a complex picture of citizens split by support for the Macri government and disappointment at the economic situation. When asked how they feel the country is evolving, the majority are far from happy. Only 24% were "satisfied" with the current state of affairs, with 43% saying they are "dissatisfied."
This is in contrast to the big jumps they had experienced between May and July, on a scale between 10 (the highest satisfaction) and 1 (which represents the lowest satisfaction).
The tourism promotion policy which has the highest satisfaction, fell by 0.2 points from last year. This was followed by foreign policy with 5.1 average points, that fell by 0.2 percent and science policy with a 0.2 percentage point fall. On the other hand, Argentines were least satisfied with security, jobs and the economy.
The survey was answered by 1,000 people throughout Argentina between the ages of 16-55, with the one main requirement being having access to an internet connection.
The polling consultancy company registered that the majority of people who participated in the poll approved of the Let's Change administration, with 25% having voted for them or who would like to be affiliated, while the Victory Front (FpV) from Cristina Fernandez had 12%, followed by Radical (UCR) with 11%, the Peronist (PJ) party with 9% and Sergio Massa's Renewal Front with 4%.
An interesting trend highlighted by IPSI is how the gap between those who approve of Macri's administration and those who disapprove is narrowing again. In May, 48% of Argentina approved of Macri, while 45% disapproved. However, going into June, this widened to a 14 point gap between those who approve and don't approve. It then shrunk again in July to a seven percent gap, between 50% that approve and 43% that don't.