Trump trailing in the polls pledged slashing taxes and regulations to "jump start America"
Tuesday, August 9th 2016 - 08:40 UTC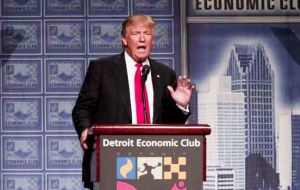 The United States Republican presidential candidate Donald Trump said on Monday he will slash taxes, block onerous financial regulations and unleash the energy sector as he pledged to "jump-start America" with a new economic plan if he is elected president.
The brash billionaire unveiled his plan during a speech in economically depressed Detroit as he tries to reset his campaign and focus on policies that draw a sharp contrast with his Democratic White House rival Hillary Clinton.
"We are in a competition with the world, and I want America to win," Trump told the Detroit Economic Club, as he highlighted "disastrous" policies that he said have snuffed out US jobs in the nearly eight years of Barack Obama's presidency.
"I want to jump-start America. It can be done, and it won't even be that hard," he said to applause.
Trump laid out a series of policies he said are aimed at revitalizing a limping economic engine, including a sharp reduction of corporate tax to 15% from 35%, something he floated back in September as a way to lure back US corporations that relocated abroad.
He would also set a 10% tax on the "trillions of dollars from American businesses that is now parked overseas" and gets repatriated into the United States.
Personal taxes would drop too, with seven tax brackets compressed to just three. The highest income tax rate would be 33%, compared with today's top rate of 39.6%.
Trump said he wants to "cut regulations massively," a move he said would lift the "anchor" weighing down small businesses, something Republicans have sought for years during Obama's tenure.
Calling for such a moratorium could help the New York real estate tycoon win support from small business owners who have argued they have been over-regulated under Obama's presidency.
Trump also proposed repealing the estate tax, the controversial levy on the estates of the deceased valued at above US$5.45 million.
"American workers have paid taxes their whole lives, and they should not be taxed again at death - it's just plain wrong," Trump said.
He also announced a plan to allow parents to "fully deduct" childcare costs from their taxes.
The speech was interrupted more than a dozen times by protesters, who were escorted out by security.
As Trump faces several polls showing him trailing Clinton, and as he pivots away from recent controversy about his campaign, he portrayed Clinton as the "nominee from yesterday".
"There will be no change under Hillary Clinton - only four more years of Obama," he warned. "But we are going to look boldly into the future."
Clinton, he said, offers more of the same: "more taxes, more regulations, more bureaucrats, more restrictions on American energy".