Brazilian Senate votes to impeach Rousseff, and Temer could cease to be "interim" president
Wednesday, August 10th 2016 - 15:49 UTC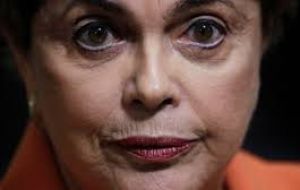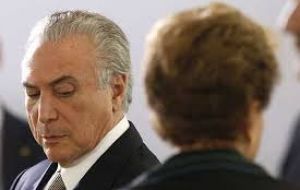 Brazilian Senate has voted to begin the impeachment trial of embattled President Dilma Rousseff, a move that could officially hand over power to her former vice president – current interim president – Michel Temer. The impeachment trial is expected to open around August 25 - four days after the Olympics finish - and go on for five days, ending with a vote in judgment.
The Senate debate stretched into the early hours of Wednesday morning, but the results were clear-cut, with a 59 to 21 majority voting in favor of moving forward with the impeachment proceedings. The Senate (81 members) needed just a simple majority to decide on taking Rousseff to trial, but a two-thirds majority will be needed in the final vote, which will come after the trial in late August.
Chief Justice Ricardo Lewandowski presided over Tuesday night's debate for Rousseff to stand trial od spending without government approval. At the start of the debate he told senators that they were about to "exercise one of the most serious tasks under the constitution."
Senate speaker, Renan Calheiros, mirrored his tone: "I want to emphasize the gravity of the decision that we will soon take," he said. "I ask that we set aside as much as possible our party political convictions."
"What we are talking about today is defending the constitution and democracy itself. Those who commit crimes must be held responsible for them," said Senator Aecio Neves, one of Rousseff's lead rivals. "The conditions are firmly in place for removing Dilma Rousseff."
Member of Rousseff's Workers Party, Senator Regina Sousa told reporters: "We know we won't win tonight. We are focusing efforts on the final judgment by trying to win over undecided senators."
The Senate suspended Rousseff in May after allegations emerged that she illegally manipulated the numbers on the country's budget to make it seem like a slump in the economy wasn't as bad as it actually was during her 2014 re-election campaign. Throughout the impeachment process, Rousseff has maintained that she did nothing wrong and called it a coup.
Rousseff has denied she broke budget laws and maintains she is the victim of a right-wing conspiracy to overthrow her government that advanced the interests of Brazil's poor.
In her written defense last month Rousseff said Brazilians knew an honest woman was being put on trial and she called the impeachment proceedings a "farce" and her alleged crimes no more than "routine acts of budgetary management."
Her conviction would end the 13-year reign of the populist Workers Party over Brazil, and leave the largest economy in Latin America in the hands of her conservative former vice president.
Since the Senate suspended Rousseff on May 12, Brazil's stock market and currency have strengthened based on investor speculation that Temer, who has laid out policy proposals that favor private business, will be better for the economy.
Temer has implored the Senate to move quickly, saying that the "people need to know who the president is." If Rousseff is found guilty, Temer will become the president until the next election is held in 2018.
In the US, former presidential candidate Bernie Sanders said Rousseff was facing a political trial, not a legal one: "To many Brazilians and observers the controversial impeachment process more closely resembles a coup d'état," Sanders said in a statement issued on Monday.