After nine years "Almirante Irizar" is ready for sea tests but faces a "muddy" problem
Thursday, August 11th 2016 - 06:39 UTC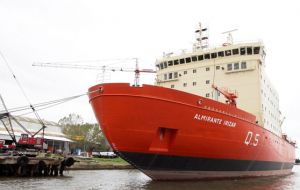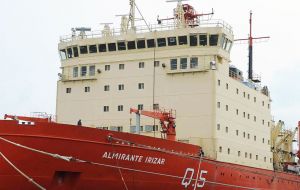 Argentina's Antarctic exploration flagship icebreaker "Almirante Irizar" is ready for the sea tests after nine years under repairs in the government's defense shipyard and hundreds of millions of dollars, but an unexpected last minute "muddy" impediment has surfaced.
In effect with a 7.5 meters draft "Irizar" is virtually stuck in the River Plate mud and the channel leading from the Tandanor shipyard to the open estuary is not deep enough, which means dredging is essential if the icebreaker is to comply with its 2016/17 summer agenda. Tugs can't be used for fear of damaging the hull and structure of the vessel.
According to Argentina's Transport Ministry the dredging bill could jump to US$ 1.6 million, and the government has all its dredges under repair or out of service. The option would be a public bidding process but in Argentina this usually triggers a chain of claims and counterclaims which can delay the job for years.
In this case the estimate is at least four months if things work out smoothly, but this time span is not acceptable for Defense officials who want to see the "Irizar" displaying its brand new colors in the River Plate.
To face the challenge a work team from the ministries of Transport and Defense have been instructed to find a solution, and fast, to the situation. But as its members point out, "there's plenty of will but not enough water".
The ARA Almirante Irizar was built in Finland in 1975 and has been Argentina's flagship of Antarctic exploration. But the ship has been out of service since 2007, when a fire broke out in the auxiliary generator compartment and rapidly expanded to the rest of the vessel seriously damaging its structure. Since then she has been under repairs in the Tandanor shipyard, much limited by funding.