Bachelet forced to introduce reforms to Chile's private pension system
Thursday, August 11th 2016 - 06:28 UTC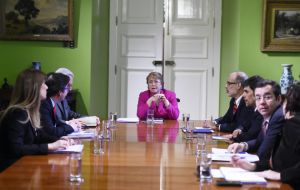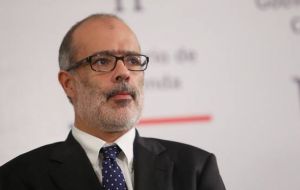 Under pressure from the public, Chile's President Michelle Bachelet proposed changes to the most radical of all the economic reforms of former dictator Augusto Pinochet — the private pension system that inspired a wave of similar projects worldwide.
For the first time, companies will have to contribute to the system, which until now depended on payments by workers to private savings accounts, Ms. Bachelet said in a televised address to the nation late Tuesday. The proposals come after more than 100,000 marched through Santiago last month to demand change.
Ms. Bachelet said a new source of funds would come from employers, paying in 5%, on top of the 10% that workers already contribute. The extra payment, introduced gradually over the next 10 years, will go to a so-called solidarity pillar, rather than people's personal savings accounts, enabling the government to increase current pensions and achieve more equality in future pensions, the president said.
Those who earn more will help those who earn less save for their pensions, Finance Minister Rodrigo Valdes said Wednesday, while highlighting the need for an agreement with the opposition over any changes. The reform, as currently designed, would cost US$1.5 billion, or 0.5% of GDP, he said.
"Too many people receive too low pensions and are left to their own luck," Ms. Bachelet said. "Pensions are a right for everyone and they must be a shared responsibility."
While the system introduced in 1981 boosted the national savings rate, underpinned the expansion of capital markets and fueled more than 30 years of economic growth, it failed in one vital aspect — it pays lousy pensions. Chileans receive an average pension equivalent to 38% of their final income, the lowest rate among the 35 nations of the Organization of Economic Cooperation and Development after Mexico. The founders of the system had indicated it would be closer to 70%.
"We need to build a solidarity system that doesn't leave all responsibilities to the individual and that abandons them when they're left behind," Ms. Bachelet said.
The proposals mark a change in attitude to a system that was regarded by many economists as a panacea in the 1990s as aging populations threatened to bankrupt the traditional pay-as-you-go systems.
The system was copied, at least in part, by countries such as Peru, Colombia and Mexico, and lauded by Republican candidates in the U.S. It helped make Chile's government the only net creditor in the Americas and created a savings rate close to that of the Asian tigers. But it has proved a heavy burden for ordinary Chileans, who feel abandoned in their old age by a government that has more than US$20 billion in sovereign wealth fund assets.
The pension funds amassed billions of dollars in savings, reaching US$176 billion last month, much of which was plowed into local stocks and bonds, cutting financing costs and ending a decades-long dependence on foreign capital. Gross domestic product expanded an average 5.2% over the past 32 years.
But the average pension for people who retired last year was about US$400, but pensions for about 40% of retirees are between US$160 and US$260.