Argentina could receive a squadron of Mirage F1; Air Force will have no combat aircraft by 2018
Saturday, August 13th 2016 - 15:11 UTC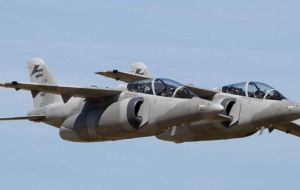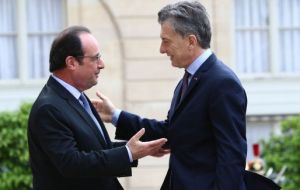 Argentina's Air Force will have no combat aircraft by 2018 since by then the three A4-AR Fightinghawk which remain operational will be decommissioned, according to Argentine defense sources. At the end of 2015, the outgoing Cristina Fernandez administration witnessed the definitive decommissioning of the few operational French built Mirage III.
With this situation the government of Mauricio Macri is considering options, which include Italian aircraft and even a squadron of French Mirage F 1 to be supplied in very generous conditions by Paris.
One of the aircraft which has been named is Italy's Aermacchi M-346 Master, but allegedly they are too expensive in money value. Some US$ 30 million each plus a completely new tooling and training program.
Last month it was announced that Argentina would purchase 24 T6/C Texan training aircraft from US manufacturer Beechcraft, but which could be used for border control and combating the drugs trade. They were offered by President Obama when he visited Argentina last March, and the operation allegedly involves US$ 240 million.
However in both cases Argentine Air Force sources mention the fact that the T6/C Texan is not that much advanced compared to the Argentine manufactured Pucara, and similarly with the Aermacchi M-346, and the Cordoba factory IA 63 Pampa III.
In effect, Air Force sources believe that the purchase of such aircraft would condemn the Argentine Aircraft Manufacture in Cordoba which was reopened with great expectations, but little results, by the Cristina Fernandez administration, and which Macri apparently has promised to re-launch.
The dispute has allowed the resurgence of a proposal from France to supply a squadron of Mirage F-1, at a unit cost of US$ 23 million, but fully equipped and five years of logistic support. Besides the proven combat capability of these aircraft, Argentine pilots and support infrastructure are used to the French aircraft which first arrived in the country in the early seventies and played a major role in the South Atlantic conflict. Besides the decommissioned Mirage III could provide some spares and further training for mechanics and ground crews.
French president Francois Hollande also visited his Argentine peer earlier this year and they again met in Paris, and apparently despite political different backgrounds, the chemistry is good, so Defense sources in Buenos Aires anticipate there could be some announcements later this year, after the two leaders again share time at the G20 summit in China.