Catholic Church criticizes Macri's policies and says 1.4 million more have fallen into poverty
Saturday, August 13th 2016 - 08:12 UTC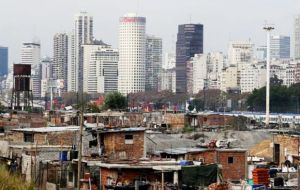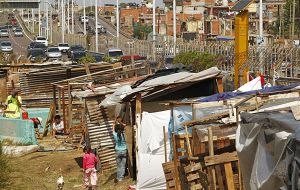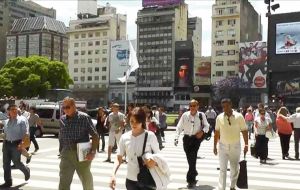 A new report released by the Argentine Catholic University (UCA) points to a somewhat bleak outlook on Argentina's current socioeconomic situation, with the revelation that 1.4 million people fell into poverty between December 2015 and April 2016. The report also provides a qualitative commentary criticizing President Mauricio Macri's social policies.
Using a measurement the UCA calls the Barometer of Social Debt — a combination of food insecurity and income averages — the study covers the period between 2010 and 2016.
According to the study, the general increase in the price of public utilities and food are the direct culprit for the large number of people that have fallen into poverty. It was presented at the university by the director of the institution, Monsignor Víctor Manuel Fernández, and the head of the investigation, Agustín Salvia.
The study itself was conducted as a survey in 5,700 homes in 25 urban settlements (this could refer to cities, towns, etc.) with over 80,000 people (with particular attention being paid to Greater Buenos Aires).
According to the resulting data, the poverty level increased from 29 to 32.6% between December 2015 and April of this year (that's where the 1.4 million number comes from) while extreme poverty went up from 5.3 to 6.9%. That gives a total of 13 million people in poverty. Much of these numbers had been foreshadowed in a preview of this study on April 1st of this year.
Three out of every 10 homes receive "some type of social employment welfare policy, economic aid or are beneficiaries of food aid" and other social programs. In addition, 48% of urban homes are affected by at least one form of structural poverty such as food insecurity or poor housing.
In addition, the study warns of the precarious employment situation, with over a million people on the verge of losing their jobs and falling into poverty with no help from the State. Only 43% of the economically active population (i.e. in condition to work) has a full time job, while the remaining 57% suffer from job insecurity or unemployment.
Aside from the numbers, an element that sets the new study apart is the inclusion of criticism leveled at the current administration, stating that "the current context of high inflation will lead to more poverty [and] we should ask ourselves if policies of social aid for the poorest sectors are enough."
"If the price increases cannot be mitigated in the short term for basic goods and services and/or a reactivation in the demand for employment is achieved, [Argentina] will be ever further from a genuine improvement in the distribution of wealth and the increasing trend of higher poverty [and extreme poverty] levels will be difficult to reverse," reads the study.
Salvia did state, however, that although "the social situation is difficult," it is "surmountable" and the reduction in poverty would be remedied mainly by "a decrease in inflation."