Argentina's squid season, one of the worst in recent times, is almost over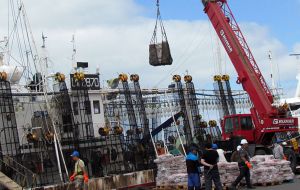 Only a few jiggers are still operating in the South Atlantic while the bulk of the Argentine fleet has already finished one of its worst squid (Illex argentinus) seasons. According to figures from Ministry of Agro Industry, until last August 8 a total of 56,159 tons of Illex had been landed.
The current landing is well below those of the previous two seasons, which closed with 126,670 tons (2015) and 168,726 tons (2014).
Most of the catch was landed in the port of Mar del Plata, which received 41,909 tons. Far behind Puerto Madryn (Chubut) was located, with 5,919 tons, and ports in Santa Cruz province, Puerto Deseado with 7,291 tons and Caleta Paula, with 712 tons.
According to the latest technical report presented by the National Institute for Fisheries Research and Development (INIDEP), 62 ships of the jiggers' fleet completed 184 fishing trips with a total of 53,511 tons.
The average catch has been 9.08 tons per fishing day since the start of the season (January 28) until the week 31 of the season.
The report also notes that the fleet activity was very unstable: some jiggers achieved good catches sporadically while for most others yields were very low or zero (FIS)