Guatemalan government makes a call to Apple asking to rename iconic ringtone.
Tuesday, August 16th 2016 - 11:03 UTC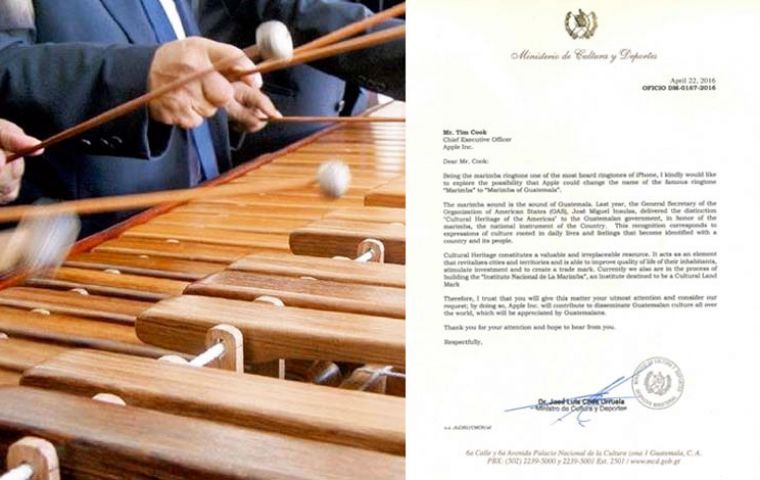 The movement made up of artists and local authorities has now 7000 signatures of support. The " Marimba " ringtone is the classic iPhone ringtone and probably one of the most recognizable ringtones in the world. What most people around the globe don't know is that the Marimba is the national instrument of Guatemala and one of it's national symbols.
With the aim of spreading the Guatemalan culture around the world , the Guatemalan Ministry of Culture wrote a letter that asks Tim Cook, Apple's CEO, to support the country's culture by changing the ringtone's name from " Marimba " to " Marimba of Guatemala ".
The launch of the campaign took place last April in the Guatemalan Palace of Culture and was led by local artists: Mr. José Luis Chea Urruela , Minister of Culture and Sports of Guatemala and the President of the Republic of Guatemala himself, Mr. Jimmy Morales.
The www.imarimba.com.gt website allowed people to sign the letter addressed to Tim Cook and get to know some of the work of Guatemalan artists of all cultural aspects.
All of the country's media echoed the news that on the same day of its release, the action became an immediate trending topic . Since then the campaign has gathered 7000 signatures from around the world asking Apple to change the name of the ringtone.
In the words of the Guatemalan Minister of Culture to the local media:
"The fundamental idea is to let the entire world know that every time the marimba ringtone rings, Guatemala is the one making a call to them. Changing a name seems something very simple but gives us projection as well as global recognition ... " . Chea Urruela said .
The importance of the Marimba to the country is absolutely undeniable, further evidence of this is the fact that there is a national Marimba day celebrated every February 20th as well as a respected institute dedicated to teaching and spreading the use of the instrument which is still in construction. The instrument is also played daily live in all of the official government institutions.
TV Spot:
https://www.youtube.com/watch?v=In-32u22Ty0
Website:
http://imarimba.com.gt/en/home-2/
Ministry of Culture of Guatemala:
http://mcd.gob.gt/haz-que-guatemala-suene-en-todo-el-mundo/