Mercosur on collision course: Uruguay rejects collective presidency sponsored by Brazil
Tuesday, August 16th 2016 - 07:17 UTC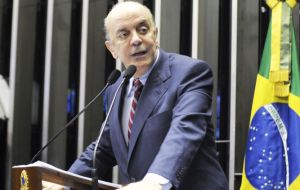 Uruguay's Foreign Minister Rodolfo Nin Novoa said on Monday that he was opposed to the proposal that the Mercosur presidency should be held collectively, as a number of countries are opposed to Venezuela taking over the role. The proposal has been sponsored by Paraguay and Brazil for several weeks, particularly Brazil's Foreign Minister Jose Serra.
"There is no plan to accept this (joint presidency) and Venezuela will also not accept it," Nin Novoa was quoted in the Montevideo media.
He added that Aug. 13 was the deadline for Venezuela to be sworn into its duties and for it to comply with a number of Mercosur legal norms, including the bloc's human rights standards and tariff regulations.
While Caracas has not met these norms, Nin Novoa warned "there are no sanctions contemplated for those who do not meet these norms. Nobody had predicted this situation or a collective presidency of Mercosur."
"The situation is complex. We want Mercosur to work, we do not want paralysis," he said.
On Aug. 23, a Mercosur summit will be held in Montevideo to debate the collective presidency idea as well as Venezuela's failure to abide by the norms.
Argentina, Brazil and Paraguay do not accept that Venezuela can assume the presidency until the end of 2016, while Uruguay does.
On July 30, Venezuela said that it had assumed the presidency of Mercosur, although Paraguay, Argentina and Brazil rejected it. Uruguay said it was in favor of maintaining the current order.