Nin Novoa's statements are "not compatible with the excellent relations between Brazil and Uruguay"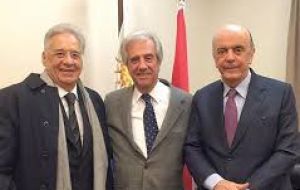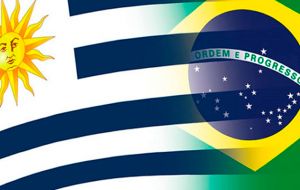 The Brazilian government said it was deeply disappointed and surprised at statements from Uruguay's foreign minister, which "are not compatible with the excelence of relations between Brazil and Uruguay", according to an official release from Itamaraty, Brazil's foreign ministry, regarding the controversy over the Mercosur presidency.
The Mercosur rotating pro tempore presidency controversy has caused a serious political and ideological rift with Brazil, Paraguay and Argentina arguing Venezuela is not entitled to such responsibility because it has not complied with the group's full member norms, plus questionable democratic credentials and by self proclaiming itself to he presidency, which is not an automatic procedure.

Venezuela insists it it complying with all Mercosur norms and procedures, and thus the self proclamation despite the "triple alliance"attempt to impede it.
And in the middle is Uruguay, accused by Brazil of having triggered the situation when at the end of its six month rotating chair on July 29 devolved the presidency, which under alphabetical order was to go to Venezuela. Uruguay points out that with its attitude it is complying strictly with Mercour norms, and believes political issues must not overlap legal norms.
Although Uruguay did not hand the rotating presidency to Venezuela, it argues that in effect, it's Venezuela's turn, and implictly accepts the fact that Venezuela has self proclaimed itself chair of Mercosur.
In the midst of this discussion Brazil's foreign minister Jose Serra together with former Brazilian president Henrique Fernando Cardoso visited Uruguay to try and convince Uruguay to accept the majority position. During the early July visit Serra met with his counterpart and president Tabare Vazquez and among other issues said Brazil was prepared to invite Uruguay, --Mercosur partner-- to join a major business delegation to Iran and Africa. Neighboring Brazil is Uruguay's main trade partner and Brazilian companies have strong investments in agriculture, manufacturing, oil and banking in Uruguay.
The visiting delegation returned empty handed, since Uruguay did not yield, but Serra anticipated that the Mercosur presidency is "vacant" and under no circumstances will it be handed to Venezuela. Likewise if Argentina is not inclined to take the chair (respecting alphabetical order), Brazil favors a collective presidency of Mercosur for the rest of 2016, as proposed by Buenos Aires, and which will be considered on 23 August.
However Uruguay's foreign minister Rodolfo Nin Novoa on 10 August during an informative meeting with the Lower House International Affairs Committee stated that Brazil had tried "to buy" Uruguay's support (with the business tour) in the controversy, and Serra insisted in "bullying the Mercosur presidency". He added that for the rest of the year the Mercosur rotating chair belonged to Venezuela, and that president Vazquez was most diappointed by the Brazilian proposal and pressing.
As can be expected this cause a strong reaction from Brazil which summoned Uruguay's ambassador Carlos Amorin, to the Foreign Ministry to express Brazil's deep displeasure with those statements, and pretended clarifications.
On Wednesday a special delegation from Parlasur, with representatives from the five Mercosur members was expecting to meet minister Nin Novoa to address the situation of the Mercosur presidency.
"Although diplomacy is meant to avoid conflicts and disputes, we believe that given the current situations, we feel that the Mercosur parliament can contribute to overcome the situation", said Uruguayan representative, Daniel Caggiani. He added "we think it's time for prudence and no more public statements".
The statement from Itamaraty said that "the Brazilian government has, in a constructive way, looked for a solution to the impasse surrounding the pro tempore presidency of Mercosur. The visit of foreign minister Jose Serra to Uruguay, last 5 July was done with that purpose. Brazil is interested in a strengthened, active Mercosur with a pro tempore presidency which has complied with a minimum of legal requirements for such an exercise and in a way it is capable of leading the process of deeepening and modernizing integration.
"During the visit to Uruguay, minister Jose Sera also discussed with president Tabare Vazquez and foreign minister Nin Novoa the strengthening potential for relations between Brazil and Uruguay and the opportunities that the two countries can explore jointly in third markets. Brazil considers Uruguay a strategic partner.
"In this context the Brazilian government received with deep discomfort and surprise statements from the foreign minister Nin Novoa referred to the visit of minister Jose Serra to Uruguay, which apparently were done during an informative meeting with the Lower House International Affairs Committee last 10 Auguts. The tone of these statements is not compatible with the excelence of relations between Brazil and Uruguay.
"The Secretary General of the Foreign Affairs ministry has summoned the Uruguayan ambassador in Brasilia for a meeting to express Brazil's deep discomfort with those statements and to request clarifications".