US Olympic swimmers fabricated robbery story to cover up a night of heavy drinking in Rio
Friday, August 19th 2016 - 10:25 UTC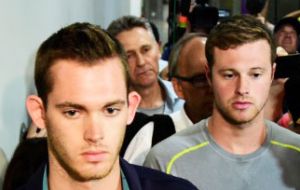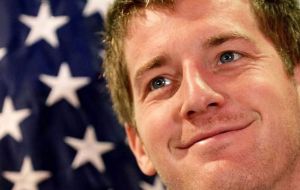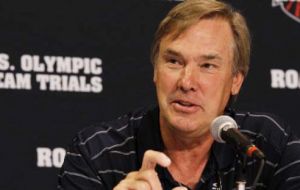 The two U.S. swimmers who were abruptly taken off a plane and detained in Rio on Wednesday night have been allowed to leave the country and are headed for the United States.
Scott Blackmun, the U.S. Olympic Committee CEO, said in a statement late Thursday that Gunnar Bentz and Jack Conger, who had been with Ryan Lochte last Sunday morning when an incident at a local gas station occurred, gave statements to police, had their passports returned "and they recently departed Rio."
Blackmun also said "we apologize to our hosts in Rio and the people of Brazil for this distracting ordeal in the midst of what should rightly be a celebration of excellence."
A third swimmer, Jimmy Feigen, who had been under a judge's order since earlier this week to not leave the country, "provided a revised statement this evening with the hope of securing the release of his passport as soon as possible," Blackmun's statement said. He had talked to authorities earlier in the week.
Feigen and Lochte were ordered to stay in the country, though that order came after Lochte had already returned to the U.S.
Police on Thursday said their investigation revealed the swimmers fabricated the story about being pulled over by men dressed as police and robbed at gunpoint. Also Thursday, USA Swimming Executive Director Chuck Wielgus in a press release chastised the four men for their behavior.
"The last five days have been difficult for our USA Swimming and United States Olympic families. While we are thankful our athletes are safe, we do not condone the lapse in judgment and conduct that led us to this point. It is not representative of what is expected as Olympians, as Americans, as swimmers and as individuals."
Wielgus left open the possibility of punitive action against the four, promising a "thorough review of the incident."
Blackmun, too, said the swimmers could be disciplined when a review is conducted after Olympic officials return to the United States. The Rio Games end Sunday.
He added that USOC officials have not seen the "full statements" from Bentz and Conger but said "we understand" they described events as seen on surveillance video that circulated on social media Thursday.
"As we understand it, the four athletes (Bentz, Conger, Feigen and Ryan Lochte) left France House early in the morning of August 14 in a taxi headed to the Olympic Village. They stopped at a gas station to use the restroom, where one of the athletes committed an act of vandalism. An argument ensued between the athletes and two armed gas station security staff, who displayed their weapons, ordered the athletes from their vehicle and demanded the athletes provide a monetary payment. Once the security officials received money from the athletes, the athletes were allowed to leave."
Rio police, in a press conference Thursday, said the swimmers who claimed they were robbed at gunpoint fabricated their story to cover up for a drunken night that ended with them vandalizing a gas station bathroom.
"It seems that they lied," said Fernando Veloso, chief of Rio's civil police. "No robbery was committed against these athletes. They were not victims of the crimes they claimed."