Chileans massive protest to end the private pension system; Bachelet's approval plummets to 15%
Wednesday, August 24th 2016 - 07:53 UTC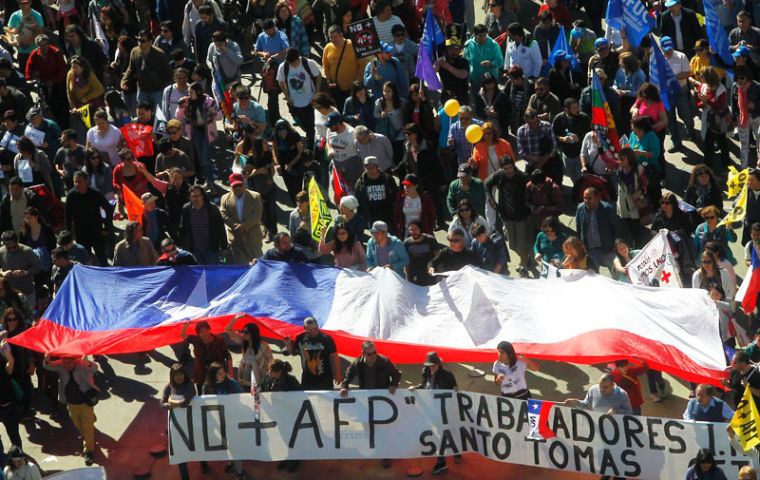 Tens of thousands of Chileans took to the streets throughout the country on Sunday, seeking to increase pressure on the government to throw out Chile's private pension system in favor of one that would provide better retirement benefits.
Under the current system, which was started in the 1980s during the dictatorship of general Augusto Pinochet, six private pension funds, known as "AFPs," manage some US$160 billion in assets.
Opponents of Chile's private pension system say it forces workers to give their earnings to for-profit funds that do not ensure a dignified old age for all Chileans.
"We expect the president and her government to open up a dialogue and listen to the citizens of the country, and not just the owners of the AFPs," said Luis Mesina, spokesman for a group called No More AFPs, which organized the march.
Organizers of the protest said 600,000 participated in the capital, Santiago, alone. Local police however put the number at 80,000.
Some marchers carried signs reading: "Chileans ripped off."
A previous march last month drew some 150,000 people according to organizers — 50,000 according to local police.
President Michelle Bachelet has offered a plan to hike the pension contribution rate by five percentage points. That would cost about US$3.8 billion a year, with the state paying US$1.5 billion, the government said earlier this month.
But the protesters said they wanted the current system totally dismantled. Any reforms must be passed by Congress, where there is broad support for boosting pensions.
Citizens are upset over the private pension system that has regularly paid out pensions under the minimum wage, currently set at just over US$380 a month.
The current model, which was introduced on a mandatory basis during the dictatorship of General Augusto Pinochet (1973-1990), requires workers to save 10% of their gross income monthly, which is accumulated in an individual account from where retirement funds are drawn. Although women can retire at age 60 and men at 65, it is not compulsory and most Chileans continue working to slightly increase their paltry pensions.
Cadem pollster found that 84% of Chileans want pension reform, while a University of Santiago survey said 61% want to return to a public pension system.
The pensions protests have been some largest of the many demonstrations during the second mandate of Bachelet, whose approval has fallen to a low of 15%