Mercosur coordinators' address domestic and international agendas, despite admitting "emergency situation"
Wednesday, August 24th 2016 - 07:11 UTC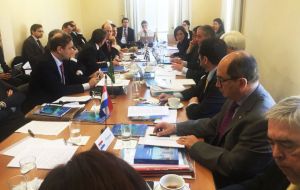 Mercosur founding countries national coordinators met on Tuesday in Montevideo and admitted that the block is going through an "emergency situation" because of the presidential acephaly, but agreed on proposals to overcome the challenge and in a "business as usual" spirit, are readying for a meeting with the EU on trade negotiations and on the Action Plan to advance closer links with the Pacific Alliance.
In a release from the Paraguayan foreign ministry, Coordinators confirmed that Venezuela has yet to comply with the 2012 Mercosur full member incorporation requirements, and thus agreed on proposals to be presented to the respective national authorities with the purpose of resolving the current acephaly in the group's pro tempore rotating chair.
Following a full day of discussions details of such proposals were not revealed but the prevailing idea, apparently was that of a temporary collective administration until next December when Argentina following alphabetical order, will be handed the group's presidency.
The Mercosur coordinators meeting included Paraguay's deputy foreign minister Rigoberto Gauto; Brazil's Under Secretary for Latin American and Caribbean affairs Pablo Estivalet de Mesquita; Argentina with Cristina Boldorini from the International Economic Relations Desk and Gabriel Bellón represented Uruguay. Despite having also been invited, Venezuela was absent.
Venezuela argues that since it holds the self proclaimed rotating chair during these six months, it's the only member that can convene meetings. Paraguay, Brazil and Argentina do not accept such arguments since they consider the presidency vacant, while Uruguay is more ambiguous saying there are no legal impediments for Venezuela´s presidency.
Paraguay´s Gauto acting as spokesperson for the coordinators meeting said that three main issues had been addressed, beginning with the Venezuela question; secondly the functioning of Mercosur during the vacancy of the pro tempore presidency and finally foreign relations.
Regarding Venezuela "we have analyzed several options which each of us will be delivering to our respective authorities, Overall there was coincidence, but naturally we can´t advance what will be the degree of coincidence and which of the options they will be preferred or chosen".
"We are limited to analyze different circumstances and turn them into proposals for our superiors, but what I can say is, as we had advanced, there is a raft of pending administrative, political, human rights issues which still must be incorporated, (by Venezuela) and they have been clearly identified and elevated to our ministries", added Gauto.
As to the future agenda of Mercosur, "we have approved a calendar of meetings with the purpose of advancing on the different main issues during this period we have defined as 'an emergency', but with the necessary regular meetings of different offices, which are needed to preserve the reciprocal concessions and trade conditions among the group´s members and with third countries".
Gauto finally said that in the near future Mercosur representatives will again meet to assess trade negotiations with the European Union, and coordinators agreed on a common text to be addressed to member countries to advance discussions with the Pacific Alliance in the framework of the Action Plan from last May. Likewise with other trade negotiations in process, and "we hope that very soon the authorities will decide on the options that have been presented".