PM May congratulates Team GB on Rio achievements; celebration parade planned in Manchester
Wednesday, August 24th 2016 - 05:50 UTC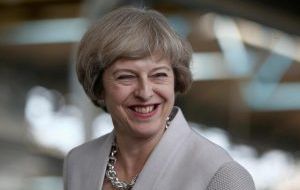 British Prime Minister Theresa May gave a statement on how UK Olympians have made history and inspired the next generation. Team GB in Rio do Janeiro Olympics took more medals than ever at an overseas Games.
Prime Minister Theresa May said: "For the past fortnight, the people of the United Kingdom have been filled with pride as we've watched our Olympians take victory in so many sports with power, grace and control. In every discipline and at every stage, Team GB has shown the world what we're made of: determination, dignity and true sportsmanship.
"I have been taking every opportunity to watch these amazing Olympics, keeping up with the team's brilliant progress.
"Rio 2016 will be remembered as a history-making Olympics for Britain, one where we took more medals than we have ever done at an overseas Games.
"But what will really stand out in our memories from this summer are those individual moments – like when our youngest Olympian, gymnast Amy Tinkler, clinched bronze at her first Games; when Laura Trott sped across the finish line to become our most decorated female Olympian; when brothers Alistair and Jonny Brownlee crossed the line one after the other to take gold and silver in the triathlon; when Max Whitlock won our first ever gold for gymnastics; when Mo Farah became the first Briton to win 4 golds on the track; and when our amazing sailors and rowers continued a winning streak that has brought us British champions in both sports in every summer Olympics this century.
"They haven't just made history; by showing just how far talent and hard work can take you, they have inspired the next generation. They have also shown the importance of supporting elite sport, and that is something this government remains wholly committed to.
"The euphoria of London 2012 didn't end 4 years ago, and it doesn't end now – we still have the Paralympic Games to look forward to. It will continue on the streets of Britain as we plan a parade in Manchester, alongside the British Olympic and Paralympic Associations. It will be a celebration fit for heroes – and rightly so, because that is exactly what they are".