Rousseff impeachment begins; huge metal barricades outside Congress to separate rival demonstrators
Friday, August 26th 2016 - 06:19 UTC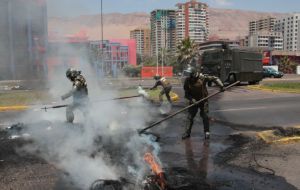 Brazilian Senators launched the impeachment trial of suspended president Dilma Rousseff on Thursday expected to end 13 years of populist rule in Latin America's biggest economy. The friendly spirit of the Rio Olympic Games faded and tension returned as the emotionally charged affair neared its climax, with Rousseff facing removal from office within days.
Chief justice Ricardo Lewandowski declared the trial open and later briefly suspended it as senators yelled at each other while debating procedural matters.
Media calculate that a majority of Senators will find Rousseff, 68, guilty of cooking the budget books to mask the depth of economic problems during her 2014 reelection campaign. If she is removed from office, her center-right former vice president turned rival Michel Temer will be sworn in to serve until 2018.
"Senators, now you must turn into judges and set aside your ideological, partisan and personal positions," Lewandowski told the house. But the impeachment affair is heavily politically charged.
Rousseff's rivals blame her for economic chaos and are out to crush her Workers' Party (PT).
"I am going to vote for impeachment, which is a political instrument that permits us to remove from power anyone who is misusing it," said Simone Tebet, a senator from Temer's PMDB party.
Rousseff's ally and predecessor, PT founder Lula da Silva, said in a speech in Rio: "Today begins a week of national shame."
Rousseff has sworn to resist what she calls a coup. "We will fight to reinforce democracy in our country with the same force that I fought against the military dictatorship," she told supporters in Brasilia.
In Thursday's opening session, her allies voiced procedural objections in vain before the first evidence was heard.
The trial will climax Monday when the president, who was suspended from office in May, addresses the Senate herself for the first time.
A vote is then expected within 48 hours, with a two-thirds majority of the 81 senators required to bring Rousseff down.
A huge metal barricade was set up on the esplanade outside Congress to separate rival demonstrators, with large protests expected Monday.
Inside the chamber, many senators can barely disguise their eagerness to finish Rousseff off.
The charges against her focus on her use of unauthorized state loans to cover budget gaps. She argues that the practice has long been accepted by a succession of governments.
Unofficially, Rousseff is taking the blame for Brazil's slide into economic decline, mixed with a giant corruption scandal over state oil giant Petrobras.
Temer, who has served as acting president since May, is hardly more popular than Rousseff. A recent opinion poll found only 14% of Brazilians thought he was doing a good job.
However, his center-right coalition and choice of market-friendly ministers have raised expectations that he can get the economy back on track.