Argentina wants to make life easier for the Falklands: insists with air link to Buenos Aires
Tuesday, August 30th 2016 - 07:00 UTC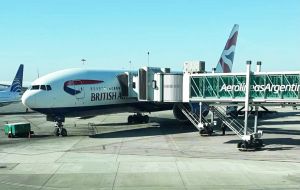 Argentine ambassador in the UK, Carlos Sersale Di Cerisano said that "an association with Argentina will be favorable for the Falklands Islanders (kelpers)" and added that "the Argentine government will try to make life easier for Islanders".
In an interview with Clarin published on Monday, Di Cerisano also underlined British optimism and improved relations with the new Argentine government of president Mauricio Macri.
During the previous government, "investors overall, investment banks, corporations did not trust the legal certainty framework, and thus did not even think of Argentina", said ambassador Di Cerisano, "but now there is optimism", since "Argentina is rebuilding bilateral relations based on the real world: the real world of economics, trade, investments, combating drugs".
However regarding the Falklands the former ambassador in South Africa pointed out that there are "no negotiations" currently, but rather "discussions" to advance in pending issues such as hydrocarbons and relations with the residents of the Falklands/Malvinas.
"Currently there are only discussions. And on the two issues of these discussions, Argentina will not remain isolated from the Islands on which we claim sovereignty, and we will try to make life easier for the Islanders".
Di Cerisano admitted that his job was to generate the necessary conditions to improve or to help the interests of the Islanders to be the most beneficial for them, and we are convinced that an association with Argentina will be favorable for them"
As to air links with Argentina, Di Cerisano insisted that "we don't pretend they become hostages but rather we want to make life easier for all of them. We could be talking of a combination through Buenos Aires, where they can board British Airways and arrive in London fourteen hours later. I think this is the most practical of situations".
Asked if Argentina would accept an air-link that called in Buenos Aires but with final destination Montevideo or Brazil the ambassador was cautious. "What we want is no cuts in links between the Islands and Argentina".
But what is most significant in the short term, and "this is how I see it, is Britain's interest in investing in Argentina. Not only investments in the private sector but also in public works and infrastructure" concluded the ambassador.