Mercosur members who disagree and don't accept consensus "can walk out"...
Tuesday, August 30th 2016 - 04:38 UTC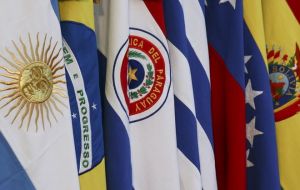 Paraguay said Mercosur will continue to function and is waiting for a reply from Uruguay to confirm a collegiate presidency of the block, until Argentina takes the helm at the end of the year. If not, "Mercosur members are well aware that the the same way they decided to belong to the group, they can walk away..."
Brazil, Paraguay and Argentina have repeatedly rejected Venezuela's self proclaimed presidency of Mercosur, while Uruguay believes the government of President Nicolas Maduro is entitled to hold the pro termpore rotating chair.
"At the time we told Uruguay there was no hurry on devolving the Mercosur presidency since those mandates are not so rigid and would have helped to avoid the current situation", said Paraguay foreign minister Eladio Loizaga, in reference to the fact that Uruguay on 29 July devolved the presidency at the strict end of its six/month mandate, which following alphabetical order fell upon Venezuela, and triggered the current controversy.
The Paraguayan minister made the statement during an interview with a Montevideo radio station, and a few hours later Uruguayan president Tabare Vazquez following a Monday cabinet meeting was asked about Venezuela's status and he was overwhelming, "Venezuela holds the Mercosur chair".
Loizaga added that none of the other founding members of Mercosur will be attending any meeting convened by Venezuela, since they do not accept the Venezuelan presidency of the group, not only because the Maduro regime does not have the necessary democratic credentials but also has not complied with its 2012 commitments when it was admitted to the group as full member, or with the chair transfer procedure.
Loizaga revealed that the foreign ministers of founding members will be meeting shortly to address the issue of the collegiate transitory presidency, based on the results of the coordinators round of talks held in Montevideo. "Anyhow there is a ruling which allows Mercosur to keep functioning without a formal presidency". This includes another round of trade talks with the European Union.
The minister said he respects the Uruguayan government position, but recalled that Mercosur decisions are on consensus, and said that all members of the group have the possibility of walking out if they don't share consensus, but "I'm not suggesting this for Uruguay, since these are sovereign decisions".
Finally Loizaga indicated that he will be receiving a delegation from Parlasur, (Mercosur parliament) which pretends to mediate in the controversy. The delegation is headed by Argentina's ex foreign minister Jorge Taiana and representatives from the other four Mercosur members and is expected sometime between 7/9 September.
"Yes, I will receive them in Asunción, I will explain to them our position and I'm hopeful that Taiana comes along" underlined Loizaga.