First US commercial flight lands in Cuba in more than half a century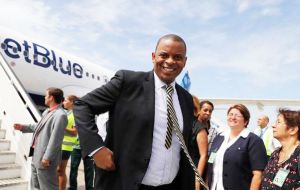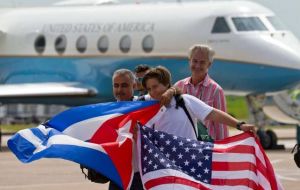 United States Transportation Secretary Anthony Foxx stepped onto Cuban soil from the first U.S. commercial flight to the island nation in more than half a century on Wednesday, a JetBlue Airways flight from Florida, marking a big step in restoring normal relations between the U.S. and Cuba.
Foxx also announced that the Transportation Department has finalized its selection of eight U.S. airlines to begin scheduled flights to Havana's Jose Marti International Airport sometime in Septbember, including a daily nonstop, round-trip American Airlines flight from Charlotte Douglas International Airport.
For now, tourists won't be allowed to fly to Cuba. Travelers must fall under one of a dozen authorized categories, among them for family visits, humanitarian missions, journalistic activity, educational activities, professional research, religious activities, public performances, clinics, athletic or other competitions and import or export business.
Calling it a "historic occasion," Foxx said in a blog posted on the Transportation Department's website that the inaugural flight culminated "months of work by airlines, cities, the U.S. government and many others toward delivering on President Obama's promise to re-engage with Cuba."
American said last month that it would put tickets for its Havana flights, including four from Florida, on sale once the Transportation Department gave its final approval to the flights. Service is expected to begin in November, the airline said at the time.
Foxx, a former Charlotte, North Carolina, mayor, rode on a JetBlue flight from Fort Lauderdale to Santa Clara, Cuba.
An initial agreement for resuming commercial flights, ending decades of estrangement and sanctions on the regime of former Cuban President Fidel Castro, was reached last February.
A dozen U.S. airlines applied for the opportunity to operate as many as 60 total daily flights to Havana – more than the 40 flights (20 round-trip flights) made available under an agreement between the nations, Foxx said in the blog post.
The airlines receiving those awards "include network, low-cost and ultra-low-cost carriers," he said.
Besides American and JetBlue, those winning final approval are Alaska Airlines, Delta Air Lines, Frontier Airlines, Southwest Airlines, Spirit Airlines and United Airlines. The flights also will originate from Atlanta; Houston; Los Angeles; Miami; Newark, New Jersey; New York; and Orlando and Tampa, Florida.
Foxx said the Transportation Department's criteria for selecting the airlines emphasized maximizing public benefits and ensuring that any carrier selected could maintain quality service. The department also gave priority to applicants representing regions with substantial Cuban-American populations, such as South Florida, as well as to several aviation hubs, such as Charlotte.
"Transportation has a unique role in this historic initiative, and we look forward to the benefits these new services will provide to those eligible for Cuba travel," Foxx wrote.