Macri announces top level meeting with UK to address ''all issues'', next week in New York
Tuesday, September 13th 2016 - 19:51 UTC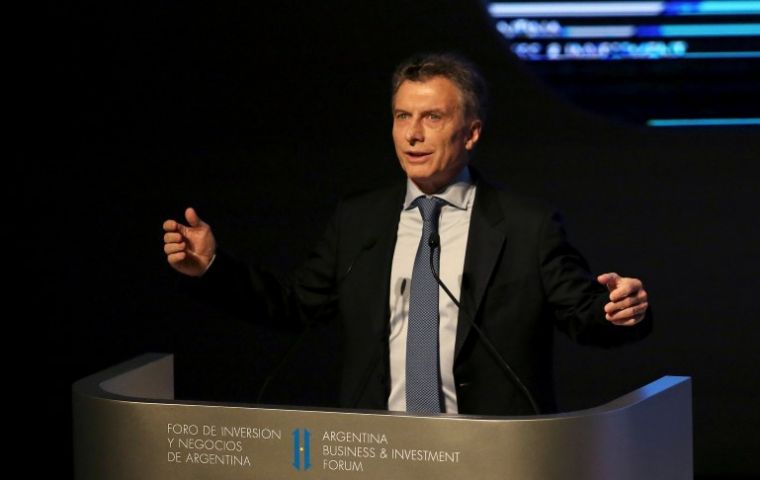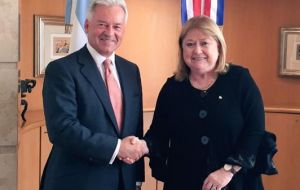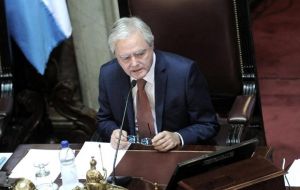 Argentine president Mauricio Macri described as a "gesture" the attendance of Foreign Office minister Alan Duncan at the Business and Investment forum in Buenos Aires, and anticipated that UK and Argentina are preparing a bilateral meeting next week in New York on the sidelines of the annual UN general assembly to address all issues including Falklands/Malvinas.
"We're planning a meeting in New York during the UN sessions. We're going to establish a round of conversations, we know it won't be easy and will take time, but we must start and we can't accept that we can't sit at a table and begin talking about all issues", Macri was quoted on Tuesday.
The president said that his government's objective was "a positive relation with the UK", and advanced Argentina is prepared to dialogue but taking into account the sovereignty claim over the disputed South Atlantic archipelago.
"We're not going to leave aside our (Falklands/Malvinas) claim" pointed out Macri before addressing other issues relative to trade, the forum that has attracted CEOs from the leading corporations in the world and which is probably his administration's greatest effort to attract foreign investment to boost the four-year recession hit economy.
Duncan is accompanied a delegation of around 40 British companies who are in Buenos Aires for the Argentina Business and Investment Forum, which opened on Tuesday.
The top bilateral meeting programmed for next week is expected to be ironed out between Duncan and the Argentine foreign minister Susana Malcorra at the San Martin Palace. Malcorra in her latest visit to London last week announced Argentina is willing to consider resuming direct flights to and from the Falklands Islands and a joint UK-Argentine exploration of hydrocarbons around the Islands
Malcorra said joint ventures between the two countries on hydrocarbons was "a sensible thing to discuss and could make sense". She argued Argentina might be willing to lift restrictions on air flights from Latin America if some of the flights went direct to Buenos Aires.
Malcorra said she was looking for confidence-building measures between the UK and Argentina, and heralded a change in rhetoric. "The previous administration was very confrontational, and we do not want that. We both recognize that solving this problem will take time. Our claim to the Malvinas will be sustained, but as part of the approach of a good neighbor".
Foreign Office minister Duncan on Monday was received by his peer Carlos Foradori and visited the provisional president of the Argentine Senate, Federico Pinedo, who is much interested in Falklands/Malvinas affairs since he claims to be a descendent of a member of the Islands' Argentine administration in the early XIX century.
Pinedo underlined the "collaboration spirit", which will be key to "generate trust because otherwise, we will remain wrapped in conflict over the dispute. We are acting in good faith, to build (relations) from common ground. But we will keep defending our rights over the Islands", affirmed Pinedo.
Duncan also visited Government House (Pink House) where he met with Macri's cabinet chief Marcos Peña and Strategic Affairs Secretary Fulvio Pompeo. Argentine sources said that there were advances in the "reestablishment of dialogue" and talks centered on trade and investment, and the Falklands/Malvinas.

"Good meeting with @marquitospena. We talked about Britain and Argentina's commitment in issues of common interest, which include trade", tweeted the Foreign Office minister.
"We value very much his (Duncan's) visit to Argentina and we have with him a point of support for this new chapter in the bilateral relation and also the attendance of many British companies that are coming to Argentina", was Pe;a's comment on the visit.
Also present at the meeting were UK ambassador Mark Kent and deputy foreign minister Carlos Foradori. A formal release on the meeting was promised for later in the evening.
Duncan's visit to Argentina is the first of a Foreign Office minister since Lord Malloch Brown in 2009..
The British Foreign Office said in a briefing that "there are significant opportunities for British business ¬ including in infrastructure, natural resources, agri-business, manufacturing, and financial services."
Duncan said that the visit was mainly to explore commercial ties. "Argentina has the world's 25th largest economy and there are many areas where our countries can increase ties. I look forward to seeing how British businesses can harness commercial opportunities in Argentina at the Business and Investment Forum," he said. "Of course, our commitment to the rights of the Falkland Islanders is clear and will not change. We will continue to support them as they look to develop their economy."