Falklands registers for world shearing championships in NZ next February
Wednesday, September 14th 2016 - 16:49 UTC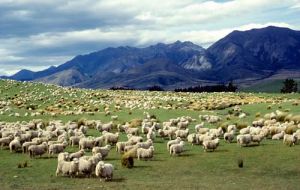 The World Shearing Championships Committee finds another gear as the World Event quickly approaches. Being held in Invercargill, Southland, New Zealand from the 9th to the 11th February in the ILT Stadium Southland, not only is the committee excited about hosting this event but Southland and New Zealand is getting behind a first in the South Island and only 5th time being held in New Zealand over a 40 year period (1980, 1988, 1996, 2012 – Masterton)
With 31 countries registered, including the Falkland Islands, Chairman Tom Wilson is delighted with the country registrations to date. "It is only September and we know of a few more teams that are to be selected around the world including the NZ team who will be picked at the Christchurch A&P Show on November 11th 2016".
Selection for the New Zealand team will be an event that will feel like a marathon as each competitor will be giving their all to secure a spot in the NZ team. After competing around the circuit of shearing and woolhandling shows to obtain qualifying points, the final 6 machine shearers, 6 blade shearers and 4 woolhandlers will step up to the board with a clean slate and will battle out the final to secure a 1st or 2nd placing to secure their place in the 2017 New Zealand Team. This will be a final not to be missed as any one of the finalists has a chance to represent NZ.
"We are expecting a real showdown at the Canterbury A&P show" Chairman of the World Shearing event, Tom Wilson said.
Countries registered to date include: Australia; Austria; Canada; Chile; Cook Islands; Czech Republic; Denmark; England; Estonia; Falkland Islands; Germany; Iceland; Ireland; Isle of Man; Italy; Japan; Mongolia; NZ; Northern Ireland; Norway; Scotland; Slovakia; South Africa; Spain; Switzerland; The Netherlands; USA; Wales; France; Argentina and Slovenia.
Invercargill located in the main centre of Southland region has a population of 51,696, and is the gateway to some of New Zealand's most beautiful scenery and destinations including the Southland heartland, Stewart Island, Fiordland and the Catlins. New Zealand is estimated to have 29.9m sheep of which 4.3m in the Southland.