Venezuela could lose Mercosur membership if it does not comply with the block's rules
Wednesday, September 14th 2016 - 08:28 UTC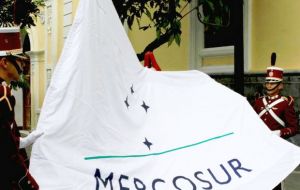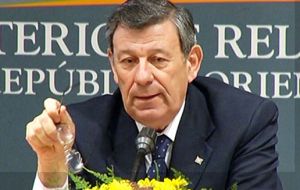 Mercosur full members are working on a resolution calling on Venezuela to comply with all rules, regulations and international treaties of the block, which should be incorporated by next December, and if not the country could lose its membership, according to Uruguayan foreign minister Rodolfo Nin Novoa.
This was also considered during the August meeting of Mercosur members' representatives, with full commitment from Argentina, Brazil and Paraguay, while Uruguay has been more reluctant all along and anticipated it would abstain if such a vote on Venezuela's future is taken next December.
Apparently Venezuela must approve an estimated 300 rules and regulations from the block, and must still incorporate some thirty international treaties which Mercosur has adhered. Venezuela denies such a situation and insists it abides by the Mercosur Protocol.
Minister Nin Novoa made the statement following the weekly cabinet meeting of the Uruguayan government. He said that Argentina, Brazil and Paraguay agreed on the December time limit, when if Venezuela does not comply, it will be downgraded to associate member, such is the case of Bolivia and Chile.
However Venezuela "would not lose the Mercosur chair", since precisely in December the rotating presidency, following alphabetical order falls on Argentina and the conservative government of president Mauricio Macri.
At the end of July Uruguay devolved the six-month Mercosur chair, as marked by the group's charter, but criticized by the other three full members that did not support Venezuela. Anyhow the government of president Nicolas Maduro decided unilaterally to take the chair, ignoring normal protocol and process, and raised the Mercosur flag in Caracas.
Uruguay's ruling coalition is divided on the issue, while ex president Mujica's party MPP, and the Communists applaud the decision to keep to the book and have Venezuela follow on Uruguay with the rotating six-month chair, most of the rest of the coalition have remained silent and argue that president Tabare Vazquez did the right thing, despite calling the Maduro regime an "authoritarian democracy"
The controversy really goes back to 2012 when Venezuela was admitted as a full member. At the time Paraguay had been suspended on the grounds it had removed elected president Fernando Lugo, a populist former bishop close friend of Cristina Fernandez, Uruguay's coalition and Brazil's Lula da Silva.
Although Lugo was removed following an impeachment process included in the country's constitution, junior member Paraguay was condemned by the rest of Mercosur, which then voted in Venezuela, violating a basic rule from the group, all decisions must be on consensus, that is unanimous.
Furthermore Brazil, Argentina and Paraguay have demanded in official statements that president Maduro abides by the Venezuelan constitution and allows the recall referendum on the Executive demanded by the opposition to go ahead.