BP "really encouraged" by Argentina, interested in increasing investments
Thursday, September 15th 2016 - 09:57 UTC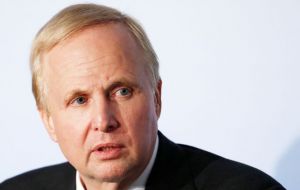 British Petroleum is looking to increase its investments in Argentina after seeing "tremendous change" in the country since President Mauricio Macri took office nine months ago, CEO Bob Dudley said on "Bloomberg Markets" this week. Argentina just "feels different," Dudley told Bloomberg's Erik Schatzker at the inaugural Argentina Business Investment Forum in Buenos Aires.
"I am really encouraged by what I hear and what I see, so I think there's a lot of future here," Dudley said, noting that BP has been in Argentina since the late 1950s.
The government has "done a lot of the right things" in the past nine months, and the government is "saying all of the right things" this week, he explained.
Argentina has great resources and the momentum is really just starting, Dudley said. "It reminds me of engines just starting up," he said.
"What's going to determine if BP increases its investment in Argentina?" Schatzker asked.
"If I had to say where I think this is going by the end of the year, I think we're going to be making further commitment to invest," Dudley responded. "But you're not ready to make them yet?" Schatzker asked.
"I think we are. That's why we're here. We want to see if what we've heard and what we hear is actually happening. And in just three days here, you can sense it. I've had meetings with government officials as you have. There's a great desire to make this happen," Dudley said.
In addition, global energy companies will most likely follow BP into Argentina, Dudley predicted.
The country does have an entrenched bureaucracy, powerful organized labor, and corruption, Schatzker pointed out. "I think the corruption tape is being cut down... You can't do it overnight, but [there are] huge different messages in the last nine months," Dudley responded.
The London-based oil producer said it would make any further investments through its joint venture, Pan American Energy LLC. Pan American is 60% owned by BP Plc and 40% by Bridas Corp., a partnership between the billionaire Bulgheroni brothers and China's CNOOC Ltd.