Falklands' Development Corporation partners with horticultural specialists to expand commercial opportunities
Thursday, September 15th 2016 - 20:54 UTC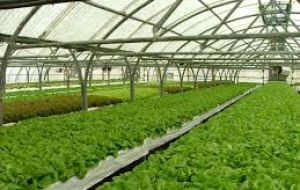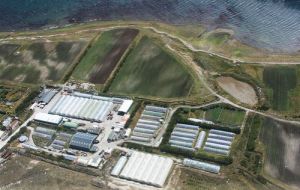 The Falkland Islands Development Corporation (FIDC) announced that three UK horticultural specialists will visit the Falklands next month in order to appraise the potential for future horticultural developments. The three consultants will be the Islands for a week and will hope to identify profitable, commercial opportunities for Falkland businesses.
The Falkland Islands Development Corporation (FIDC) has recently partnered with Martin Emmett Horticulture, a group of horticultural consultants, in identifying profitable, commercial opportunities for businesses in the Falklands.
Arriving in the Falklands in early October, the group of three UK specialists – led by Martin Emmett – will be in the Islands for a week collecting data and conducting interviews with a vast array of people involved with horticulture from farmers to hoteliers to shipping and logistic operators.
The data the group will collect whilst in the Falklands includes geographical and topographical information, climate data, and soil and water analyses. They also plan to conduct interviews with current and prospective growers, as well as retailers and consumers. The aim is to examine local supply chains for horticulture products and the potential for market development in order to make clear recommendations on what can be achieved in the Falklands in the future.
Gordon Ackroyd, FIDC's Development Officer, explains that "an appraisal of the potential horticultural development opportunities is relevant and interesting to producers, prospective enterprises, and to consumers". He adds that FIDC hopes the public presentation, 'Fresh for the Future', to be held during the consultant's visit will form a "key part of developing and changing thinking on this vital market".
Speaking on the upcoming consultant visit and the planned public presentation, FIDC's Development Manager, Anne Wagner-Gras, further states that FIDC "looks forward to this event as a professional and focused forum for discussion". Adding any conclusions drawn from the consultant visit "will be available soon after their return to the UK".
Martin Emmett Horticulture is a specialist consultancy in horticultural technical training and business development, and speaking of the partnership with FIDC lead consultant Martin Emmett states "we're looking for models that describe current production systems and estimates of the potential economic benefits of specific technical improvements. We will also have data sets available to site owners and others involved in evaluating [the Falkland's] potential for alternative cropping systems".
The 'Fresh for the Future' public presentation Mr. Emmett hopes will "inspire" and give "real voices of experience" a platform for speaking to the consultant group on horticulture in the Falklands. FIDC also hopes it will "an opportunity for an interactive session where anyone can gain information on an exciting and fast-changing industry" and where local residents can "share intelligence on matter like crop performance, and pest and disease issues".