Lula claims corruption charges are targeted to destroy him ahead of 2018 elections
Friday, September 16th 2016 - 06:55 UTC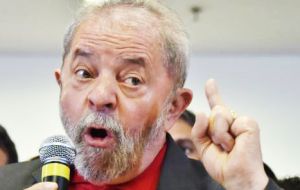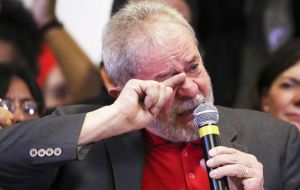 Brazil's former president Lula da Silva defended himself against corruption charges Thursday, saying the case against him was an attempt to destroy him politically ahead of elections in 2018.Speaking a day after prosecutors accused him of masterminding a massive corruption scheme at state oil company Petrobras, the popular leader launched a wide-ranging defense of his career and legacy.
He described both the case against him and unrelated charges that brought down his impeached successor, Dilma Rousseff, last month as part of an elite conspiracy against the powerful Workers' Party he co-founded. Rousseff was replaced on August 31 by centre-right President Michel Temer.
"Like a soap opera intrigue, they created an epilogue: they elected Temer, removed Dilma from office... and now they want to destroy Lula's political life," he said, flanked by supporters at a press conference in Sao Paulo.
Lula, a former shoeshine boy and steelworker who remains a hero to many poor Brazilians, presided over eight years of prosperity from 2003 to 2011, then handed power to Rousseff, his hand-picked successor.
Wearing a red Workers' Party shirt beneath a gray blazer, Lula recalled how social programs launched during his administration helped tens of millions of Brazilians escape poverty.
"I'm proud to have created the largest left-wing party in Latin America," said Lula, 70.
The gravelly-voiced, charismatic leader is still seen as potential come-back material in Brazil -- or was until recently. Polls show the founder of the Workers' Party to be a favorite for returning to power in the next presidential elections in 2018.
But his political project is in turmoil after Rousseff's impeachment and his own legal troubles. Rousseff was convicted by the Senate on unrelated charges of accounting irregularities, but is broadly seen to be paying the price for the Petrobras scandal and Brazil's worst recession in 80 years.
The charges allege that Lula and his wife received the equivalent of 3.7 million reais (US$1.1 million) in bribes. Among the allegations are that Lula and former first lady Marisa Leticia received a beachside apartment and upgrades to the property from a major construction company, OAS, which was one of the players in the Petrobras scheme.