Punta Arenas port increased docking space should be ready early 2017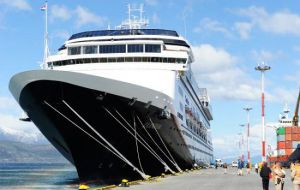 Works on the extension of the Prat dock in the port of Punta Arenas picked up this last week and should be ready for the beginning of next year, including two dolphins and six jackets, which should enable all cruise passengers to land directly.
"This is an emblematic project for us and it is keeping to budget and timetable, with work intensified this last week", said Ignacio Covacevich, General Manager of EPAustral, responsible for port operations in Punta Arenas, extreme south of Chile and a busy summer call for cruise vessels and maritime logistics support of Antarctica bases.

Cocacevich said that one of the jackets at the access of the port is already in Punta Arenas and work is going on below the dock to install it. Of the three other jackets, to be placed at the head of the dock one has been finished and is ready to be shipped while the remaining two are 50% finished.
Likewise the breasting dolphin in a couple of weeks should be ready to be installed.
"Organizing the project has not been easy since it had to be programmed is such a way it interferes the least possible in daily shipping activity, loading and unloading, while the expansion works are going on", explained Covacevich.
The overall project will demand funding equivalent to 13 million dollars and will enable the docking of vessels up to 250 meters long. Furthermore in winter time the additional docking capacity can be used by fishing and scientific vessels that can have more time to remain in Punta Arenas.