Congress expects to summon Malcorra on the Argentine/UK joint statement
Tuesday, September 20th 2016 - 09:21 UTC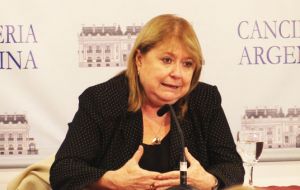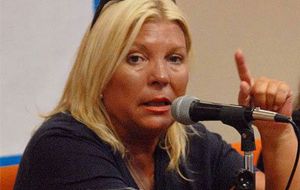 The recent Argentina/UK joint statement on cooperation on an ample range of fields with a special chapter on the South Atlantic has triggered strong reactions in Argentina's political establishment and will most probably summon foreign minister Susana Malcorra to Congress to explain the extent of the document announced last 13 September.
The statement has seen the emergence of two main groupings, those favoring dialogue with the UK, particularly when it comes to the Falklands, and those diehards nationalistic that see it as a surrender of sovereignty claims.
The controversy of such a sensitive issue has also reached those groupings which collaborate and support the approval of president Mauricio Macri's legislative initiatives and have ensured a good governance structure, so far. In fact Macri's representation in C Congress in both houses is very limited.
The three political sectors that have supported most of Macri's legislative agenda, the Radical party, the Renewal Front, the Civic Coalition have addressed the issue and anticipated that any accords related to Falklands' issues must be considered by Congress and are also waiting for foreign minister Susana Malcorra, currently in New York, to return and invite her to explain the extent of the statement particularly those referred to the Falklands, hydrocarbons and fisheries.
"We are going to invite foreign minister Malcorra to Congress so she can explain to us how those ten points mentioned in the joint statement impact on the Malvinas sovereignty claim", said Mario Negri, head of the Radical party block in the Lower House.
"Any step related to Malvinas must take into account two premises: the sovereignty claim will not be dropped and must be closely protected, and no alterations to the State policy on the issue", added Negro.
The Civic Coalition national board also expressed concern about the joint statement.
"The purpose of a State policy can't be achieved with a cooperation mechanism in which the British government only understands it as a negotiation under its terms" said lawmaker Elisa Carrió.
The CC emphasized that the announcement is in effect an agreement and in the event of its implementation, "Congress approval is an unavoidable fact".
Alberto Asseff, member of Parlasur (Mercosur parliament) for the Renewal Front described the statement as a "bad pre-accord" and "unnecessary".
He added that the international context did not demand haste in subscribing the joint statement with Britain.
"At the most favorable moment for Argentina, the government signs a bad accord".
The Renewal Front is headed by Sergio Massa, in his forties, who was a presidential candidate in 2015 and managed 23% of the vote. Most important his challenge divided the ruling hegemonic Peronist movement, thus ensuring a tight victory for conservative Macri in the presidential runoff.