Falklands: Macri and Theresa May agree "it's time to begin talking"
Wednesday, September 21st 2016 - 08:50 UTC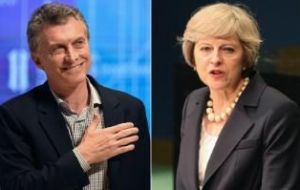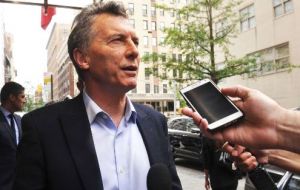 Argentine president Mauricio Macri told British Prime Minister Theresa May he was ready to begin an open dialogue on the Falklands/Malvinas sovereignty, which he described as "the main issue" of bilateral relations. According to Argentine media reports, Theresa May said that yes, "it was time to begin talking".
The two leaders exchanged a few words from different tables, during the lunch hosted on Tuesday by UN Secretary General Ban Ki-moon in New York to all visiting heads of state and government, as part of the launching of the 71st General Assembly.
"During lunch yes, I greeted Theresa May, we came across with the UK prime minister and I told her I was ready to begin an open dialogue which obviously includes the issues of the Malvinas Islands sovereignty", Macri revealed to the Argentine media.
Macri added that he did not share the same table with PM May but were seated in adjacent tables, and reached out for a brief dialogue.
"Yes, we should begin talking" the UK leader told Macri, and although it was a process that would take years, the good thing was for it to begin. "I emphasized that for us its was the main issue, since they belong", the Argentine president commented.
However Macri said there was no reference to the recent joint cooperation statement, signed in Buenos Aires last week and which opens the way for the two sides to begin working in a long agenda of issues.
"It is obvious that what was signed with the UK is a statement, in which each side displayed what they want to achieve and discuss. We included sovereignty, fisheries, and they mentioned hydrocarbons exploration and air links with the Islands", said Macri.
Asked if PM May had made any comments on Macri's message to the UN General Assembly, Macri displayed good humor and with a smile said, "she told me it was the best she had heard in many years".
"It was only a minute, very much informal" underlined the Argentine president.
Macri also commented on the barrage of criticisms from the Argentine opposition referred to the joint statement since allegedly it does not include the sovereignty issue, but he underlined, "it's the number one issue, they belong to us", but in this new approach of Argentina, "dialogue is the path, above all other issues, including sovereignty".
"They (UK) are prepared to dialogue about everything", but "we must be cautious, we must manage anxiety", because this is going to take many years. At some moment, something obvious, that Malvinas are Argentine will be fulfilled, but if we don't begin with dialogue, it's a waste of time, which is what happened during the last twelve years".
Macri was seated in a table next to Panama and Poland presidents.