Malcorra underlines the significance of a Macri-May "dialogue" but denies any roadmap
Wednesday, September 21st 2016 - 09:09 UTC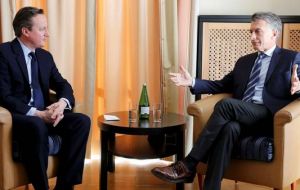 Argentine President Mauricio Macri talked with British Prime Minister about the possibility of holding a more specific meeting to advance in the multiple issues of a bilateral agenda, including the question of the Falklands/Malvinas Islands sovereignty, "which for us is a priority", said foreign minister Susana Malcorra late Tuesday.
In effect "the Prime Minister said they would be meeting (with Macri), but not because there is a roadmap, or the next steps to follow, this has been arranged and is advancing", revealed Malcorra.
Argentine president Macri and PM May held a brief encounter at midday Tuesday sitting at adjacent tables during lunch hosted by UN Secretary General Ban Ki-moon.
The minister added that sovereignty of the Islands is a question to be discussed with Britain, however "saying that the issue is on the table and that we have agreed how to advance, is far from the point, we still have a long route ahead".
"We are working in the identification of the soldiers buried in the Islands and a raft of other issues", insisted Malcorra as to the current situation with UK.
Finally, "it's a discussion in which President Macri told the Premier, as he did when he met ex PM David Cameron last January. 'let's advance talking and let us put all issues on the table, as must be in any mature relation with the world, and also with Britain' ".
"We might not reach much or nothing at all, or we might advance in some issues and not in others, and others might take years, but it is the strongest signal and message of our commitment to dialogue", concluded minister Susana Malcorra.