Aerolineas Argentinas could become profitable in four years time
Thursday, September 22nd 2016 - 10:46 UTC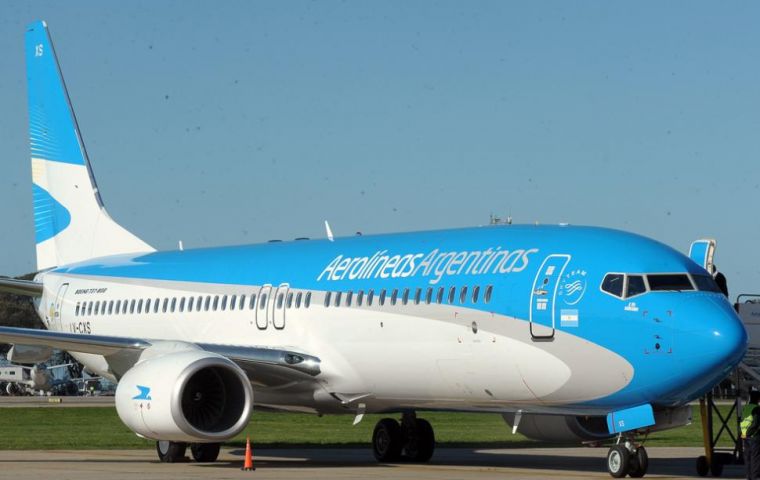 Aerolineas Argentinas CEO revealed that the flag-carrier is increasing passenger numbers and could become profitable in four years but losses keep piling, an estimated one billion dollars this year, which comes upon a one to two million dollars daily losses during most of the decade.
"We have cut non operational costs and increased revenue in the last nine months, sales are up 10% this year and Aerolineas carried a record million passengers in July, up 13% over a year ago", said CEO Isela Constantini, who also admitted the one billion dollars losses in twelve months.
In an interview with The Wall Street Journal Ms Constantini said Aerolineas Argentinas acknowledged that the airline was missing some basic elements of any normal company such as a budget, targets and performance and sales.
"We had more staff than what we needed. The challenge was that we did not know exactly where those surplus employees were" said Constantini.
The CEO also mentioned that cutting costs was also quite a challenge since the previous administration "did not have a cost knowledge, there was no revenue culture".
Admitting that it could save money, "but privatizing Aerolineas Argentinas would be like trying to privatize the Argentine football national team, it's highly sensitive, all Argentines feel Aerolineas belongs to them".
Under the previous government of president Cristina Fernandez, Aerolineas was re-nationalized, the number of flights and passengers carried doubled, punctuality improved, staff was increased by 3.000 and subsidies (billed to tax payers) climbed to 5bn dollars, according to Transport minister Guillermo Dietrich.
President Macri's administration believes that Aerolineas Argentinas gobbled more funds than what was invested in education in some of Argentina's poorest provinces.