Macri downplays chat with May, "it was no formal meeting", just "a nice gesture from the prime minister"
Thursday, September 22nd 2016 - 07:15 UTC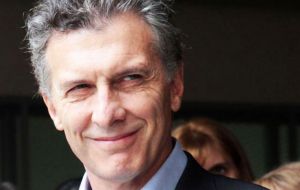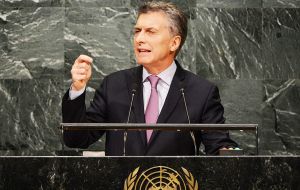 Argentine president Mauricio Macri on Wednesday downplayed the chat with PM Theresa May on Tuesday at the UN banquet in New York saying it was "no formal or official meeting", but nevertheless underlined the "good predisposition" for dialogue which Argentina had lost during the last twelve years and anticipated that the Falklands/Malvinas Islands question "will demand many years".
"You can't convert a chat of less than a minute in an official encounter", Macri told the Argentine media and insisted that it was "essential to lower the level of anxiety" and requested the media keeps to the "context".
Nevertheless Macri described PM Theresa May's attitude at the banquet hosted by Ban Ki-moon as "a gesture".
"At the end of the day yesterday's informal chat with the British PM was good, it meant we have started a dialogue", insisted the Argentine president who is expected back in Buenos Aires on Thursday.
In his first speech to the UN General Assembly Macri effectively called on UK to begin a dialogue on the Falklands/Malvinas question.
Macri explained that at the event "that all heads of state and government shared, PM Theresa May approached me, from the next table, to greet me and said that she hoped that in the future we could sit to dialogue, and I replied that Argentina was ready for an open dialogue which includes all issues, including sovereignty"
"She said she thought it was reasonable, but clearly it was not an official encounter. We met standing up next to a table and it didn't last two minutes", pointed out Macri who underlined the gesture showed "the good intention and good predisposition from both sides to retake a dialogue that had been lost".
Further on with time, "we will have to address an official work agenda, which will take years but what is important is that we've started, since the last twelve years, were lost years".
"We Argentines are convinced that with time, yes or yes, what UN and so many other countries have supported, will confirm our sovereignty over the Malvinas Islands".
As to the joint statement on cooperation with UK, and which has triggered controversy in the Argentine congress including among the government's allies, Macri requested that "we learn to manage our anxieties", and insisted it is "only a set of good intentions". He confirmed that foreign minister Susana Malcorra will be going to Congress to explain the terms and scope of the statement's text.
The Argentine president concluded saying that it is essential to lower anxieties since the issue will take many years and the path is dialogue.
"Dialogue for us is the main axis of action of a democratic Argentina foreign policy".