Heavy fire from Obama, if blacks don't turn out to vote, "I will consider it an insult to my legacy"
Friday, September 23rd 2016 - 11:10 UTC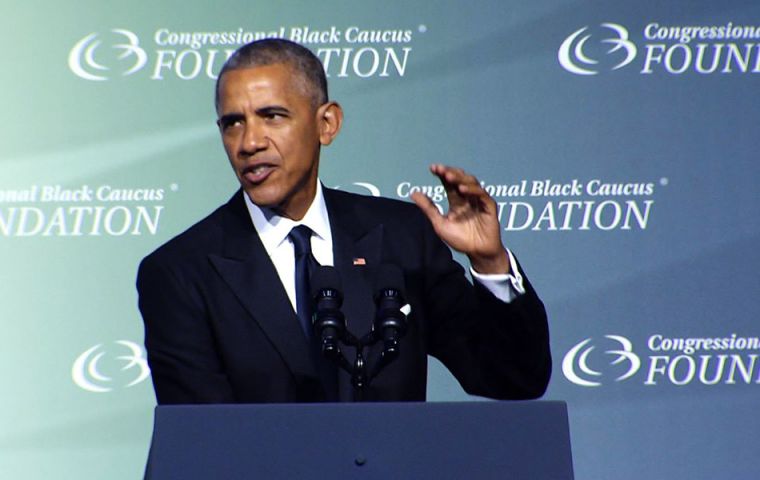 President Barack Obama, in one of his final presidential addresses to a predominately black audience of Capitol Hill lawmakers and guests, made a plea to his Democratic base: African-Americans must vote en masse in November's presidential contest to help his legacy or he will be personally insulted.
"There's no such thing as a vote that doesn't matter. It all matters," Obama told the crowd at the Phoenix Awards dinner, hosted by the Congressional Black Caucus Foundation.
"I will consider it a personal insult, an insult to my legacy, if this community lets down its guard and fails to activate itself in this election," the president said.
While Obama touted advances in the economy, healthcare and criminal justice reform under his administration — declaring the country is "stronger and more prosperous than it was eight years ago" — he noted that "none of it's been quick, none of it's been easy. None of it has come without a fight. And so much of our work remains unfinished."
Though he didn't mention Donald Trump by name, Obama asserted that one candidate will advance his policies, while "there's another candidate whose defining principle, the central theme of his candidacy is opposition to all that we've done."
"He says we got nothing left to lose, so we might as well support somebody who has fought against Civil Rights, and fought against equality, and who has shown no regard for working people for most of his life," Obama said to cheers. "Well, we do have challenges, but we're not stupid."
"We know the progress we've made, despite the forces of opposition, despite the forces of discrimination, despite the politics of backlash. And we intend to keep fighting against those forces," he said.
America's first black president, along with first lady Michelle Obama, drew cheers, a standing ovation and frenzied cell phone snaps when they took the stage at the Walter E. Washington Convention Center.
The Congressional Black Caucus' foundation has sponsored the confab for nearly 50 years; this year, the event drew upwards of 10,000 attendees and featured some 70 public policy forums that tackled everything from police brutality to voting rights. Among the honorees last night were retiring Harlem Congressman Charles Rangel, Ohio Congresswoman Marcia Fudge and a posthumous tribute to the nine men and women slain inside a Charleston, South Carolina church.
Hillary Clinton, who received a Trailblazer award for the historic nature of her candidacy, praised Obama as "one of the best presidents this country has ever had," saying that he, his wife and two daughters have represented America with "class, grace and integrity."