Land distribution, remains challenge for the post-peace accord in Colombia
Monday, September 26th 2016 - 11:06 UTC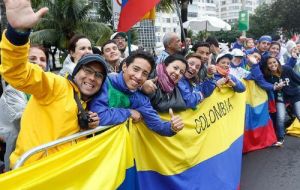 Conflicts over land in Colombia are likely to increase following a peace deal to end half a century of war as once no-go areas in the Andean country open up for business and development projects, land rights experts said. The government and rebel Revolutionary Armed Forces of Colombia (FARC) are due to sign a peace accord Monday to end Latin America's longest-running conflict, which has killed 200,000 people.
The war, which began as an uprising by the Marxist-inspired rebels over unequal land distribution, has forced nearly 7 million people from their homes, leaving Colombia with one of the world's largest displaced populations.
The peace accord pledges to address unequal land distribution, bridge the urban-rural divide and foster development in neglected, rural areas hit hard by violence. Under the accord, landless and displaced farmers will be entitled to credit and farmland through a land bank that aims to redistribute 7 million hectares of land over the next decade.
Luis Fernando Arias, head of the National Indigenous Organization of Colombia, said indigenous groups would vote in favor of the peace deal in an October 2 plebiscite, which recent polls indicate will pass, paving the way for 7,000 FARC fighters to demobilize.
But he expressed concerns that peace would send more oil and mining companies into Colombia's unexplored frontiers and jungle areas, particularly in former rebel strongholds in the south.
"There is a lot of territory in Colombia that multinationals have not reached because of the presence of the FARC," Arias revealed. "Now with the FARC gone, they will come in without those security concerns."
Indigenous and Afro-Colombian communities say companies operating in Latin America's fourth-largest oil producer have often failed to consult properly with them about projects on their lands, which threaten their water resources and the environment.
"We will face more pressure from the multinationals and big projects from the government that want to exploit our lands. There are huge economic interests at stake," Arias said. "We know that the conflict will now be in terms of social and environmental conflicts."
Under the accord, the FARC would hand in its weapons to United Nations observers and eventually become a political party. But this leaves the door open for other organized criminal groups involved in drug trafficking and illegal mining, along with another rebel group — the National Liberation Army (ELN) — to replace the FARC and fight over the spoils, analysts said.
"It's clear that land conflicts will continue in Colombia," said Carlos Guevara, coordinator of We Are Defenders, a Bogota group that campaigns to protect human rights activists. So far this year, 51 land and environmental activists have been killed in Colombia, many by unidentified gunmen, he said. The government says it will move quickly to try to stop other crime gangs from expanding their operations.
Another factor fueling land disputes is the lack of a proper land registry system, according to Daniel Paez, head of the Urban and Regional Sustainability Studies group at Colombia's Los Andes University.
"The government does not have the ability to develop the land bank because it does not know who owns the land and who is on it. We are ahead of ourselves," Paez underlined.