Colombia peace accord challenges: Sunday's referendum and 7.000 combatants laying down their weapons
Tuesday, September 27th 2016 - 06:48 UTC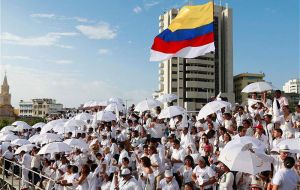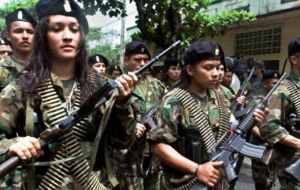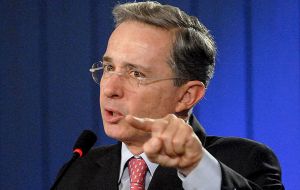 As thousands of Colombians offered both hope and skepticism, the government of Colombia and FARC Marxist rebels who fought a bitter civil war for more than half a century signed a historic peace accord on Monday, closing the Western Hemisphere's longest armed conflict. The deal will have a first test next Sunday when the Colombian people will vote on a referendum.
Heads of state from across the Americas watched as Colombian President Juan Manuel Santos and FARC guerrilla commander Rodrigo Londoño, Timochenko, formally ended the long and brutal war, then shook hands.
Colombians, almost all dressed in white, chanted "Si a la paz" - yes to peace - and "Si, se pudo" - yes we could.
By the only official accounting, more than a quarter million people — 267,162 in all — were killed in the conflict and an estimated eight million were displaced. During the 1990s, Supreme Court justices and politicians were routinely assassinated and Colombia teetered on becoming a failed narco-state.
Bernard Aronson, a special U.S. envoy to the peace talks, noted how arduous the four years of negotiations had been. "This is a good peace," he said. "There were no winners and no losers. Everyone won peace."
President Obama has lauded the accord as one of his administration's most important foreign policy achievements. Along with the U.S. rapprochement with Cuba, it marks the end of the last Cold War-era conflict in the Americas.
Much of the credit, U.S. officials say, goes to the U.S.-financed Plan Colombia, which poured billions of dollars into the country to help the government fight the guerrillas. But the war gave rise to egregious abuses by the army, including extrajudicial assassinations and the rise of right-wing paramilitary death squads. The guerrillas also committed atrocities, including sexual enslavement of women and kidnappings of civilians.
In recent years, Plan Colombia evolved into Paz (Peace) Colombia and began to shift money to nonmilitary sectors, such as justice institutions and development. But many hurdles await besides the referendum.
Under the agreement, an estimated 7,000 fighters from the Revolutionary Armed Forces of Colombia, or FARC, will lay down their weapons and rejoin civilian life, along with 17,000 noncombatant followers.
"Many of these were taken [by the FARC] as children and they know no other life," said Marcela Escobari, an official with the Latin America bureau of the U.S. Agency for International Development. "If they are not given alternatives, they will turn to some sort of illicit activity. Reinsertion will be very complicated."
Ex president Alvaro Uribe and who implemented the heavy handed Colombia Plan is leading a campaign to derail the agreement. Dissident guerrillas may refuse to lay down their guns. Some communities where demobilized rebels are to be resettled have balked at the idea.
There are many in Colombia, especially those involved in the super-lucrative drug trade, who would be happy to see the country remain in a state of conflict. Colombian officials are worried that demobilized guerrillas could be targeted for assassinations to discourage peace, as has happened in other post-conflict societies.
"Spoiling is much faster and easier than making peace," said a senior U.S. official. "It took four years to make peace, and it can be destroyed in four minutes."
The United Nations will be charged with monitoring how the peace deal unfolds, much as it did at the conclusion of the wars in El Salvador and Guatemala in the 1990s.
But the Colombia mission will be more complicated. For starters, the country has more armed factions than existed in other Central American conflicts. It also has a far greater component of criminal activity, primarily in the form of drug trafficking.
In addition to helping to demobilize the rebels, the agreement calls for issuing land titles to peasants and expanding education and other government services into rural areas.