Falklands issue gold and silver tribute coins on Queen Elizabeth II 90th birthday
Tuesday, September 27th 2016 - 06:15 UTC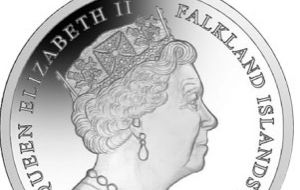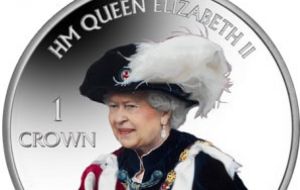 The Falkland Islands have issued a colorful tribute to the territory's head of state, Queen Elizabeth II, on the occasion of her 90th birthday; she is the first monarch of the British Isles to achieve this milestone.
Aside from having become the oldest British sovereign, Queen Elizabeth II is also the longest-reigning English or British sovereign and longest-married monarch: the Queen and the Duke of Edinburgh will celebrate 69 years of marriage in November. On the world stage, she is the longest-reigning female head of state in history.
The coins are struck in gold and silver and are produced by the Pobjoy Mint on behalf of the government and treasury. The reverse design depicts Her Majesty in the robes of the Order of the Garter, a centuries-old chivalrous order with roots dating back to 1348. Each precious-metal coin is struck four times to achieve an outstanding Proof finish.
The obverse of the coin depicts an effigy of the Queen that was introduced last year and is exclusive to the Pobjoy Mint.
The mintage of the one-ounce sterling silver Crown coin has been set to match the Queen's year of birth, 1926. The mintage for the one-ounce gold Proof is just 62 pieces, representing the number of gun salutes that take place at the Tower of London to commemorate the Queen's birthday every year.
The coins are shipped in an acrylic capsule for protection and housed in a custom red box with a certificate of authenticity. For more information on this and other coins issued by the Falkland Islands, please visit the website of the Pobjoy Mint. International orders dispatched where applicable.