Global trade set to grow at its slowest pace since 2009 financial crisis warns WTO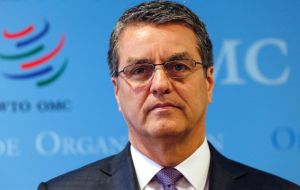 The World Trade Organization Tuesday lowered its global trade forecast, warning that anti-globalization rhetoric and Brexit were pushing trade growth to its slowest pace since the financial crisis. The warning comes as talks on a landmark free trade deal between the European Union and the United States faces stiff opposition and Britain's EU exit causes jitters.
The WTO said that global trade was now estimated to expand by just 1.7% this year, compared to its April projection of 2.8%. The new figure is also a far cry from a projection a year ago that trade would swell by 3.9% this year.
Describing it as "wake-up call", the Geneva-based global trade body said growth had fallen to its slowest pace in around seven years, when the global financial crisis hit.
"With expected global GDP growth of 2.2% in 2016, this year would mark the slowest pace of trade and output growth since the financial crisis of 2009," the trade body said in a statement.
Looking ahead, the WTO said several issues, including Brexit's possible impact, had now cast a shadow and it had revised down its 2017 forecast.
Trade is now expected to grow between 1.8/3.1%, down from the previously anticipated 3.6%, said the WTO, which sets the rules of global commerce.
Also clouding the outlook, the WTO said, is "the possibility that growing anti-trade rhetoric will increasingly be reflected in trade policy" as well as financial volatility due to monetary policy changes in developed countries.
"The recent run of weak trade and economic, growth suggests the need for a better understanding of changing global economic relationships," it said.
It warned that "creeping protectionism", coupled with lacking trade liberalization and perhaps the growing role of the digital economy and e-commerce might help explain the recent declining ratio of trade growth to GDP growth.