Brazil central bank sees annual inflation targets within arm's reach
Thursday, September 29th 2016 - 11:23 UTC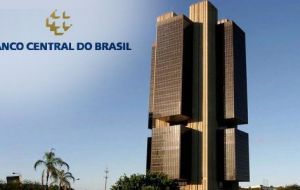 Brazil's central bank expects annual inflation to ease below the government's 4.5% target in 2017 after years of hovering well above that goal, leaving the door open for cutting some of the world's highest interest rates as early as October. The bank also held its estimate for an economic contraction of 3.1% in 2016, but it expects the economy to grow 1.3% in 2017.
In its quarterly inflation report released this week, the bank lowered its 2017 inflation forecast to 4.4% from 4.7%. For 2016, the bank raised its outlook to 7.3% from 6.9%. It said it expected annual inflation to drop to 3.8% in 2018.
"The report consolidated the idea that the bank will cut rates in its October 18/19 meeting," said Otavio Luis Leal, chief economist with Banco ABC Brasil in Sao Paulo. But the question is: by how much, and this will depend on the approval of the spending ceiling proposal by president Michel Temer
In October, a special commission in the Lower House is expected to vote on a proposal to cap public spending. This may show the level of resistance that president Temer, who has introduced legislation to reduce the country's soaring debt burden and regain investors' confidence of investors in the once-booming economy, will face in Congress.
Since July 2015, the central bank has kept its benchmark Selic rate steady at a 10-year high of 14.25% to battle inflation that remains near 9%, almost double the official target.
Carlos Viana, central bank director of economic policy, told reporters that the relevant horizon for monetary policy is not static, meaning policymakers will aim to keep inflation at target beyond the year-end goal set by the government.
In the report, the bank said it saw signs that food prices were easing, but the pace of the inflation slowdown and the implementation of key fiscal reforms remain uncertain. Those three factors are crucial for the future of monetary policy, the bank has said.
The central bank aims to keep inflation at 4.5%, the center of the official target range. Since 2010, it has missed that target despite a crippling two-year recession that has slashed demand from consumers and businesses.
In a hybrid model that uses the market forecasts for interest rates and keeps the exchange rate constant, the bank sees inflation at 4.8% next year. A second hybrid model that keeps rates on hold and adopts market forecasts for the exchange rate shows inflation hitting the target in 2017.