A 32.8 feet Anaconda found in Brazil, largest snake in the world
Saturday, October 1st 2016 - 11:53 UTC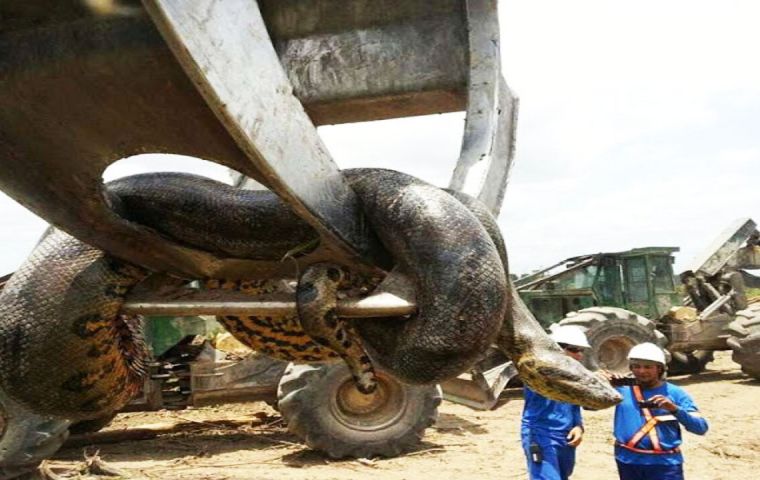 Construction workers in Brazil have stumbled upon one of the most frightening creatures in the planet a ten meters long anaconda. The snake measuring 32.8 feet and weighing over 400 kilos, was discovered after the workers set off a controlled demolition explosion to destroy a cave in Belo Monte Dam to make way for their project.
The Belo Monte Dam is one of the most controversial dams being built in Brazil. Environmentalists claim it is being constructed on the Xingu River in the state of Pará, Brazil and would allegedly destroy a huge area of the pristine Brazilian rainforest. Its construction began in 2011 under the watch of Eletronorte.
A footage showing how the workers lifted off the Jurassic-like creature from the rubbles has been circulating online. Although the video was taken months back, it is only getting the attention now after some animal lovers and activists criticized the workers.
Some of them left a comment on the video criticizing the workers for killing such precious creation of nature.
Until now, it is not clear whether the anaconda was actually dead when it was found or if the workers intentionally killed it. The rest of the footage showed a crane lifting the humongous reptile and at one part, it showed the anaconda chained up.
Apparently this Anaconda could be the biggest ever. The previous records belong to an in captivity "Medusa" with 25 feet and an earlier one discovered and displayed as part of a BBC show with 17 feet.