Sao Paulo mayor race has become a puppets' dispute between presidential hopefuls
Saturday, October 1st 2016 - 02:46 UTC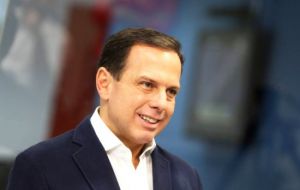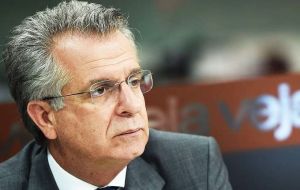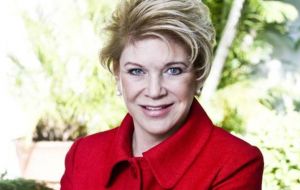 Next Sunday Brazilians will be going to the polls to elect mayors and councilors in 5.570 cities and towns across the country in what is the first test of the mood of voters since the impeachment of president Dilma Rousseff last month.
Public opinion in Brazil is divided among those supportive of the new administration of president Michel Temer who blame Rousseff for the worst recession in eighty years, and those loyal to the ousted president arguing she was the victim of a congressional coup. Not to mention the ongoing investigations into the jumbo Petrobras corruption scandal.
For Rousseff and her mentor Lula da Silva, Sunday night is expected to be a grim one for party's activists and should serve to soften calls for a general election.
However many ambitious politicians might see their future bids frustrated or delayed in crucial electoral circuits. Such is the case of Fernando Haddad, the mayor of São Paulo, Brazil's largest industrial and financial pole, who is attempting re-election. Polls show the Lula ally stuck in fourth place, barely in double figures, and almost out of time to force his way into a likely run-off round.
His broadly progressive and relatively scandal-free four years in office are expected to count for little in the current anti-Workers' Party climate. In effect a former television host of the Brazilian The Apprentice, Joao Doria Jr is the favorite heading into Sunday's vote on who should become the next mayor of South America's biggest city.
Despite never having held elected office before, he is now the front-runner to take charge of a metropolis with almost 12 million inhabitants. Doria was an enthusiastic supporter of impeachment and has accused the Workers' Party of "introducing" corruption into Brazil, even when his Social Democracy Party of Brazil and himself have prosecutors investigating claims that among other irregularities Doria used his personal fortune to buy votes in his party's primary contest.
But much of this phenomenon can be explained by the clash of two PSDB chiefs both with presidential aspirations. In effect Doris is strongly sponsored by the Sao Paulo state governor Geraldo Alckmin who wanted to prevent party stalwart Andrea Matarazzo getting the nomination and potentially winning the election because Matarazzo is close to Brazil's new foreign minister, José Serra.
A win for Matarazzo risked boosting Serra's prestige within the party at the expense of the governor's just as the two furiously position themselves ahead of general elections set for 2018. Both men want to be president as the candidate of the PSDB.

Having seen Doria best his friend, Serra convinced Matarazzo to quit PSDB and join the Social Democratic Party. From there, he has teamed up with another defector becoming, with Serra's encouragement, the running mate of Marta Suplicy, mayoral candidate of the catch-all Democratic Movement of Brazil Party, her new political home after quitting the Workers' Party. Marta, as she is known, was once one of the Workers' Party's most high-profile figures.
Though she represented the party as congresswoman, senator, minister and, back at the start of the millennium, mayor of São Paulo, she now claims she was never a leftist.
Polls show her in a battle for second place and the right to contest a run-off with Celso Russomanno, another television personality.
Given these are the main candidates in the biggest and most important race taking place on Sunday, it is little wonder that less than a third of Brazilians are currently enthusiastic about democracy.