Colombians turn their back on peace deal: Santos and FARC allies in rejection
Monday, October 3rd 2016 - 08:52 UTC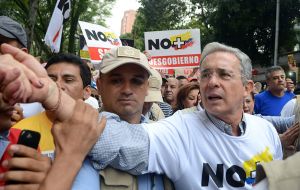 Colombian voters appeared to have shocked their government, world leaders and pollsters by blasting away its hopes for a historic peace deal with the Marxist FARC rebels on Sunday, near-complete referendum results showed. Reversing the trend of earlier opinion polls, voters appeared to have narrowly defied the government's pleas to ratify its plan to put 52 years of bloody conflict behind them within months.
They voted 50.23% to 49.76% against the accord, with 99.6% of the votes counted, according to official results published online by electoral authorities. Supporters of the accord had expected it to effectively end what is seen as the last major armed conflict in the Western hemisphere.
But Sunday evening's results pointed to a crashing defeat for President Juan Manuel Santos and the accord that he signed on September 26 with the Revolutionary Armed Forces of Colombia (FARC). Santos's government had said it had no Plan B if voters rejected the accord, which stipulated that the agreement must be ratified by Colombians in a referendum in order to come into force.
Opinion surveys by pollsters Datexco and Ipsos Napoleon Franco, published on September 26, indicated the 'Yes" vote would win by a margin of around 20%.
Opponents of the deal, drawn up at peace talks in Havana, Cuba, resented the concessions made to the FARC, which has carried out killings, kidnappings and extortion.
"Peace is exciting, but the Havana accords are disappointing," said the leader of the 'No' campaign, former president Alvaro Uribe.
Sunday's result threw the country's future into uncertainty.
"Colombia is betting everything on this plebiscite, socially, economically and politically," said Jorge Restrepo, director of conflict analysis center CERAC, ahead of the results.
Santos insisted as he voted on Sunday that "peace is the way for our children and grandchildren to have a better country. We Colombians must all play a role in this historic change."
Many voters said they were sick of war, but others said the accord was a reward to a group they see as terrorists. The opinion polls had forecast a 'No' vote of about 35%
The deal signed on October 26 by Santos and FARC leader Rodrigo Londoño, known as "Timochenko," called for the 5,765 FARC rebels to disarm in six months and convert into a political group with seats in Colombia's Congress.
The accord covered justice and compensation and an end to the cocaine production that has fueled the conflict. It offered an amnesty for some FARC members but not for the worst crimes such as massacres, torture and rape.
The FARC promised in a statement on Saturday that it would provide "material compensation for victims." They have apologized to their victims and held emotional face-to-face reconciliations over recent days.
The accord was meant to virtually end the conflict, even though the government has so far failed to start peace talks with a smaller leftist rebel group, the National Liberation Army (ELN), which it accuses of holding hostages.
The FARC launched its guerrilla war on the government in 1964, after a peasant uprising that was crushed by the army. The ideological and territorial conflict drew in several leftist rebel groups, right-wing paramilitaries and drug gangs. Colombian authorities estimate the conflict has left 260,000 people dead, 45,000 missing and nearly seven million displaced.