Brazil industrial production suffers major monthly drop during August
Wednesday, October 5th 2016 - 12:02 UTC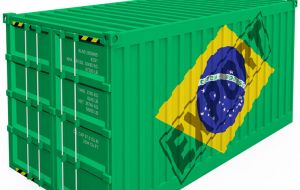 Brazil's industrial output posted its biggest monthly drop in over four years in August, damping optimism about the country's prospects for recovering from its worst recession in generations. Industrial production declined 3.8% in August from July in seasonally adjusted terms, the Brazilian Institute of Geography and Statistics, IBGE, said on Tuesday.
The drop, led by a sharp decline in manufacturing output, wiped out five consecutive months of increases and came in worse than expected. Economists surveyed by Brazilian newswire Agência Estado had predicted a decline of 3.1%.
Asset prices in Brazil have risen since Dilma Rousseff, the left-leaning president, was suspended in May and replaced by Michel Temer, the pro-business vice president at the time who promised to balance the government's books. Ms. Rousseff was ultimately impeached and ousted from office by the country's Senate. Many economists had expressed optimism in recent months that the recession may be close to bottoming out.
Augusts' decline in industrial output complicates that outlook.
"The sheer size of the drop in output in August was large enough to reverse all of the gains made in the previous five months," said Neil Shearing, chief emerging-market economist at Capital Economics. "As a result, production has now sunk back to a recent record low and is at a level last seen in 2004."
But Shearing also estimated two-thirds of the drop was attributable to lower vehicle production, adding that the situation "isn't quite as bad as it seems at first sight."
Durable-goods output, which includes the auto sector, contracted 9.3% in August from July as a local Volkswagen AG plant halted production due to a global dispute with an auto-parts supplier. Shearing said that this skewed overall industrial production, but that it should be reversed by October or November.
Alfredo Coutiño, head Latin America economist for Moody's Analytics, said the Olympic Games, held in Rio de Janeiro Aug. 5-21, also may have weighed on output.
"The contraction in August was a surprise because it was believed that the Olympics could help the economy," Coutiño said. However, because of public holidays and closures during the Games, "the Olympics hurt industry."
Recent trade data also paint a worrisome picture for Brazil's economy. Imports plunged 9.2% in September from a year earlier, reflecting still-weak consumer demand. Exports, seen by many economists as key to reviving Brazil's industry amid a moribund domestic market, fell 2.2%, raising concerns that the Brazilian real—one of the world's best-performing major currencies this year—is hampering exporters' competitiveness.
Economists expect Brazil´s GDP to shrink by around 3.14% this year, after contracting by 3.8% in 2015.