Argentina forecasted to grow 2.7% in 2017, but his year is of contraction and costly reforms, says IMF
Thursday, October 6th 2016 - 12:24 UTC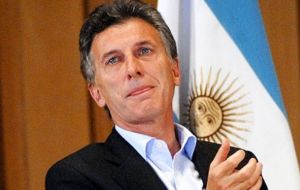 The latest IMF World Economic Outlook report anticipates that Argentina's economic contraction will amount to 1.8% this year, fiercer than the IMF's last forecast of a 1% decline. Inflation, meanwhile, will hover at around 40%, above government estimates, the Fund said.
However there was also a positive side since the IMF argued that the economic reforms currently underway by the president Mauricio Macri administration are "important and much needed," even if "costlier" than expected.
"Argentina has begun an important and much needed transition to a more consistent and sustainable economic policy framework, which has proven costlier than envisaged in 2016," the report said.
The higher inflation this year, says WEO, was a byproduct of "an ongoing and necessary liberalization process," which explained its contrast with the rest of emerging countries where it was relatively slower across 2016.
The economic forecast was much more optimistic for 2017, saying that growth in Argentina would rebound to 2.7% on the back of "moderating inflation and more supportive monetary and fiscal policy stances."
In terms of inflation the IMF forecasts a "very pronounced" drop next year, with price hikes closer to 20% in 2017.
The Fund was also optimistic about unemployment, saying it would amount to 8.5% next year, down from 9.2% this year.
The news came shortly after the IMF resumed its regular audits on Argentina's economy, mandated under its Article IV, in a visit where mostly positive — even if sometimes cautious — words were offered about recent reforms. The audit was the first in almost ten years.
The WEO report also added that Argentina's revised statistics were "considered to be in line with international standards," as opposed to those under the previous administration, which ended up causing a "declaration of censure" against the country.