"The Spanish flag will never fly over Gibraltar, neither in four or 4.000 years "
Saturday, October 8th 2016 - 11:04 UTC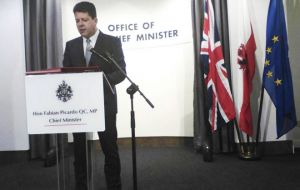 Neither in four years or in 4,000 or any other longer time, the Spanish flag will never fly over Gibraltar. It's "No way, Jose", so get used to it", was the direct and clear message from Chief Minister Fabian Picardo to the Caretaker Spanish Foreign Minister Jose Manuel Garcia Margallo who on Wednesday night vowed to "plant his flag on Gibraltar".
Garcia Margallo comments were made on Spanish state television in reply to the Chief Minister's comment before the United Nations this week when he stated "No, way Jose", to Spain's proposal of joint sovereignty and said Garcia-Margallo would never get his hands on the Rock.
"My hands no, but I will plant my flag much sooner than Mr Picardo believes," said García Margallo adding that the world had changed with Brexit and the current solution disappears "so we have to seek another one."
The Caretaker Spanish Foreign Minister also insisted, on the program '24 horas' that once negotiations over the terms of Brexit were under way in March the simple choice for the Gibraltarians was to either be British outside the European Union or "Hispano-Britons inside the Union".
Chief Minister was robust in his response. Brexit he said adamantly changed nothing, "Gibraltar will never be Spanish". The Government, he said, considered that it was deeply regrettable that García Margallo continued to embark on a policy of threats, open hostility and confrontation against Gibraltar as opposed to one of dialogue and cooperation.
"The reality is that the decision by the United Kingdom to leave the European Union has absolutely nothing to do with the sovereignty of Gibraltar. Mr Garcia Margallo continues to link the two in a bare-faced attempt to take advantage of "Brexit" in order to advance Spain's outdated and invalid claim."!
The principles of the eighteenth century, said Mr Picardo, could not be applied to a situation that exists in the twenty-first century.
"In this day and age the very concept that a people, however small, can be handed over from one monarch to another against their wishes is something that should be anathema to anyone who calls himself a democrat. The right of self-determination, where people decide their own future freely and democratically, is the way forward for Gibraltar and Mr Garcia Margallo has to learn to accept that. Moreover, history has shown that the people of Gibraltar will not respond to threats."
The Chief Minister finally said Gibraltarians had seen off the attempts of many Spanish Foreign Ministers to reclaim the sovereignty of Gibraltar, and neither threats nor sweeteners would work on them.