Combating inflation and austerity reforms Brazil central bank's priorities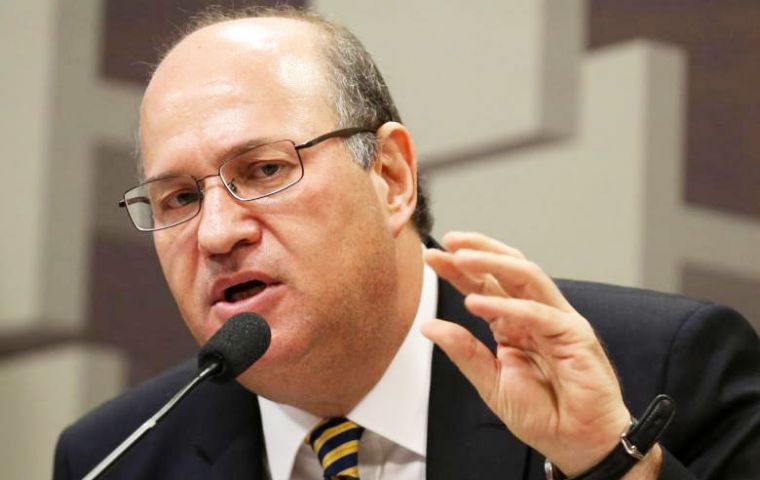 Brazilian central bank chief Ilan Goldfajn said policymakers have no set time frame to cut interest rates, even as industrial data suggested that Latin America's biggest economy may take longer than expected to emerge from recession.
Goldfajn told lawmakers at a congressional hearing that in order to cut benchmark interest rates from their current level of 14.25%, policymakers need to feel confident that inflation will continue to drop and hit the official target.
"The central bank does not have a pre-established time frame to ease monetary policy," said Goldfajn, who took the helm of the monetary institution in June under a new center-right government.
For months, Brazil's central bank has been under pressure to slash interest rates - which are among the highest in the world - in order to breathe life into the US$2 trillion economy which is now in its second year of recession.
Following an easing in inflation in recent months, markets are pricing in a gradual reduction of 300 basis points in interest rates over the next year, starting from next month. Lower interest rates could help spur the economy by making corporate and consumer borrowing easier.
A bigger-than-expected drop in industrial output which erased five straight months of gains, quashed hopes for a more rapid recovery in the once-booming economy. Since 2015, Brazil's economy has underperformed emerging market peers and neighbors, and a rebound is expected to be timid.
The International Monetary Fund (IMF) this week kept its forecast for mild recovery in Brazil next year. IMF estimated Brazil's economy would expand by 0.5% in 2017 after contracting 3.3% this year. The central bank has kept its benchmark Selic rate at a 10-year high of 14.25% for a year to battle inflation, which remains near 9%.
Goldfajn, a US-trained economist with experience in private banks, urged lawmakers to approve key austerity reforms to pave the way for lower interest rates and speed up a recovery.
The lower house of Congress on Tuesday started to analyze the draft amendment that limits public spending to the rate of inflation. The draft, which maintains the government's original proposal largely intact, is expected be voted on Thursday.