Falklands' new Chief Executive has 30 years experience in England's public sector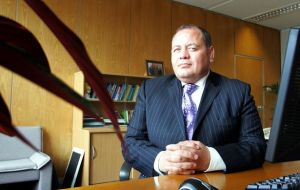 Falkland Islands Government has announced the arrival of the new Chief Executive for the Falkland Islands, Mr. Barry Rowland. He comes to the Islands from the North of England and brings over 30 years' experience in the public sector, with 15 years of those being in a number of corporate roles with senior leadership responsibilities.
Mr. Rowland's most recent role was as Executive Director of Place in Northumberland County Council serving a rural community. One of three Executive Directors who jointly led the organization, Mr Rowland led the improvement of the public service and had a broad range of responsibilities including public protection, fire and rescue, planning and development, technical and front line services.
In his previous role as Chief Executive of Newcastle City Council, Mr Rowland led the City's economic development, urban and social renewal. He established a strong relationship with the private sector and worked closely with major public sector institutions to deliver the City's plans creating a One Council and One City approach. He also had wider responsibilities across the North East of England for transport, including the development of the rail and underground metro system.
His wife Lynne will join him in the Falklands in the New Year, whilst their 4 adult children will remain in England.
Mr Rowland, who arrived in the Islands on 3rd October, said he "has been struck by the warmth and spirit of the people he has met and looks forward to working with FIG, together with residents and the business community over the next few years, towards building a strong Public Service that can serve the Falkland Islands community well now and into the future and the creation of a stronger sustainable economy and improved quality of life".